About: ArcPacific owns the right to acquire 100% interest in the Rickard Gold Project, Timmins Gold Camp, Ontario Canada. The Rickard Gold Project also falls within the Abitibi Greenstone Belt which is world renowned for its gold endowment. The Timmins Gold Camp has produced over 80 million ounces of gold. ArcPacific Resources Corp. (TSXV: ACP) is a Canadian based exploration company expanding the exploration initiative at its historic past producing gold and silver mines. In addition to the Rickard Gold Project, ArcPacific also holds the right to acquire 100% interest in the Blackdome project in Southern BC, and the Silver Lode – Lucky Mike Project near Merritt, BC. The Company is focused on creating shareholder value through new discoveries and strategic development of its mineral properties.
INTERVIEW TRANSCRIPTS:
WSA: Good day from Wall Street, this is Juan Costello, Senior Analyst with the Wall Street Analyzer. Joining us today is Adrian Smith, CEO of ArcPacific Resources. The company trades on the TSX venture, ticker symbol ACP. Thanks for joining us Adrian.
Adrian Smith: Hey Juan, yeah thanks for having me. So I guess I can jump right into it, I mean a little quick brief intro on ArcPacific. It's fairly tight market cap, it's got about 30 million shares outstanding currently, and we're just putting in some new exciting gold project. So the recent news is that we got the Rickard Gold Project which is a historic high grade past-producing mine in the Timmins Camp in Ontario in the Abitibi Greenstone Belt. You know it's got the right address, it's got some really flashy historic grades. And it was never drilled out to be a resource, it was discovered in the early 1900s and they found some pretty spectacular gold grades right at the surface, and they just started mining it. And that's kind of the way that it went for 30-plus years on the property where they just kind of continued to follow the structures and never really took the time to develop the resource. So we're really excited about it, we're happy to be able to get our hands on it, and we got drill permits that are already granted, so we are pretty much ready to go.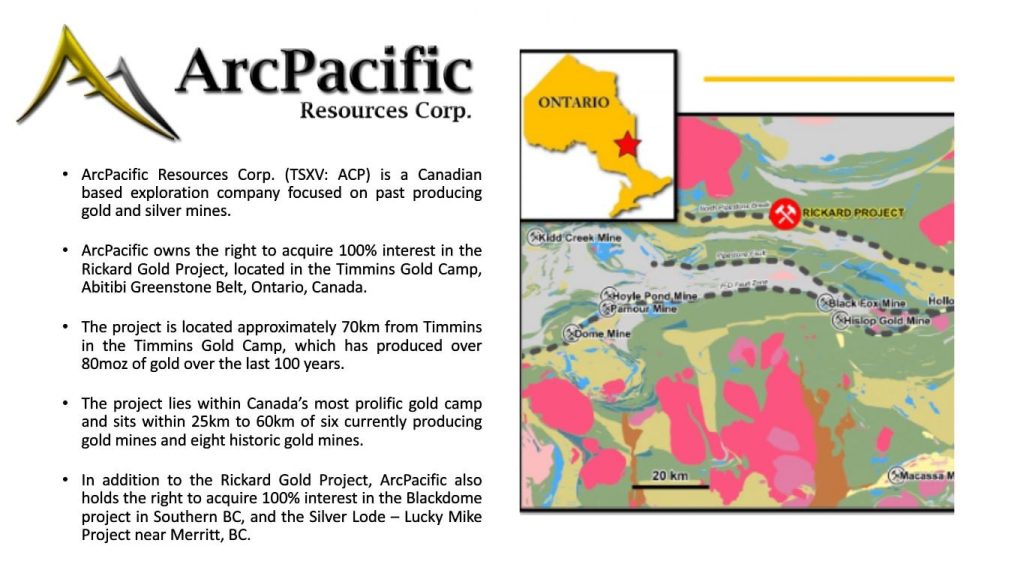 WSA: Yeah, great. So in terms of the projects and property, can you give us more of a general overview on them?
Adrian Smith: Absolutely, that's the Rickard Project, the newest addition to the portfolio is one of three projects the company holds. We are primarily a precious metals focused company. We have obviously a Rickard Gold project in Ontario and a Blackdome project in southern BC which are both gold projects. The Rickard being the more advanced project, it has underground mine workings already developed on the project, and our plan is to come in and continue to expand on those historic zones. For the Blackdome, our second gold project that we have in the portfolio is more of a Greenfield project that does have epithermal gold-silver mineralization at surface. And our initial plans are to follow up with the existing showing, start to do some trench work and channel samples there to show what kind of gold is being deposited. And then in addition to that, we have a silver asset also in BC and it is a past-producing — it consists of several past-producing silver, lead, zinc mines that run in the trench for about 4 to 5 kilometers. It's got a lot of history on that project, and our initial work that we're doing right now is to compile greater than 75 historical ports in the property and be able to put together a solid geological model to build off of and that'll be tested early next year as well.
WSA: So what are the main goals and milestones that you're looking at here over the course of the next six months?
Adrian Smith: So moving forward, we are planning on drilling at the Rickard Gold project in Ontario which is just outside of Timmins. It's fully permitted, so currently we just signed a new deal on that project which has brought us — it's quite an interesting gold project into the company in the last few weeks here and we're putting together a couple of other things to increase the land package hopefully and just get all the ducks in the line for the drilling program that we will be looking to start either this coming winter or in the spring. And again it's fully permitted, it's in an area that's easily accessible. We can drill year-round there, so that's first on our big checklist of major milestones to accomplish, the initial phase one drilling at the Rickard Gold project in Ontario.
WSA: So what are some of the key factors Adrian that you feel make ArcPacific unique from some of the other players that are in the sector?
Adrian Smith: Sure, right now is a really good opportunity for investors to jump in because it's still at an early stage, the Project Acquisition has just gone through. We've been approved to take it on, we've got 100% option with an underlying buyback of 2% of the 3 total NSR that will be outstanding. So it will be a very good deal structure for the company, and at this early stage getting project that is already advanced, we're not in the discovery mode, we're in the resource definition mode essentially where we're going to be going back into these historic working and kind of building off of where they left off. So we know there's high grade gold in these vein structures already, and we're just going to go in and start to follow and see how deep the system goes, how wide it is, and what kind of numbers we can get out of it. So it's a very exciting time and it presents a very good opportunity at the moment.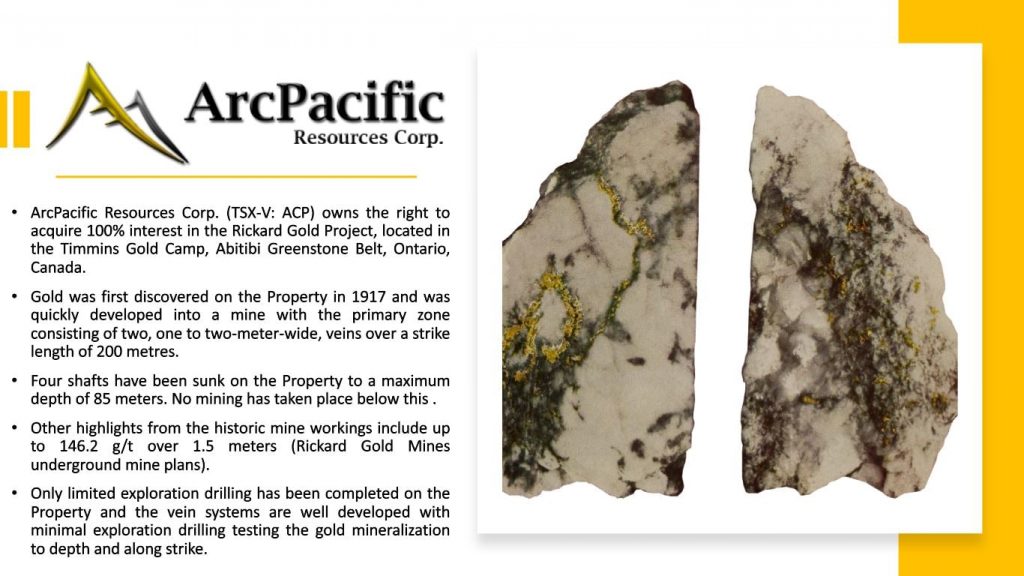 WSA: Yes certainly, so can you talk a little bit about your background and experience there and who the key management is at ACP?
Adrian Smith: Yeah sure. The company is undergoing some corporate governance changes and myself included, I just was brought on as the CEO. I have a technical background, I am a professional geologist, I worked for several years in underground producing gold mines, and I've really kind of grown from that experience and have a very good understanding of what it takes to develop a mine and what the basic requirements as far as size and grade and total areas that are needed in order to make it a worthwhile prospect to be chasing. And I see a lot of that potential in this new Rickard Project, and I'm excited to start building an experienced management team that has experience in the Timmins area as we go forward.
WSA: So in terms of investors and the financial community, what are the main drivers that you are sharing with them about the company and what do you wish perhaps they still better understood about ACP?
Adrian Smith: I mean it's early, what I would say is that it's just starting, we've just refocused the company with the new initiative and we're going to be looking to capitalize the company a little bit for the initial drilling program. But it presents as a very good opportunity to get in an early stage where we haven't started the drilling yet, ramping up to the drilling program, knowing that we have very highly qualified targets that we can start chasing right off, right out of the gates that are already fully permitted. There's not a lot of holding us back here. So again just the existing capital structure is tight, management owns upward of — management and the insiders own upward of 20% of the company. So it's really well positioned, it's tightly held. And I mean we're just at the stage of the game where we're just ramping up. So it's a good time to get involved.
WSA: Yeah certainly, historically there's been some pretty good grades and you have a pretty good position there and relationship with the area…
Adrian Smith: Absolutely, I know we're excited to be in the Timmins Gold Camp, historically it has produced over 80 million ounces of gold so it's definitely the right area of Canada to be exploring.
WSA: Certainly, so once again we are speaking with the new CEO of ArcPacific Resources, Adrian Smith. The company trades on the TSX venture, ticker symbol is ACP. So before we conclude here, get a recap of some of the key main points throughout the interview. Why do you believe investors should consider the company as a good investment opportunity today?
Adrian Smith: Yeah, I mean it's the right time, it's all about timing with investing, and getting in early is the key. And right now ArcPacifc, ACP, has just acquired a new gold project in Ontario that's drill ready, and we're just ramping up to get things going there. It's a very exciting time and we're looking forward to start our development on it.
WSA: Well, we certainly look forward to continuing to track the company's growth and report on your upcoming progress, and we'd like to thank you for taking the time to join us today there Adrian and update our investor audience, it was great having you on.
Adrian Smith: No problem, thanks a lot for having me.