About Pro-Dex, Inc: Pro-Dex, Inc. specializes in the design, development and manufacture of autoclavable, battery-powered and electric, multi-function surgical drivers and shavers used primarily in the orthopedic and maxocranial facial markets. We have patented adoptive torque-limiting software and proprietary sealing solutions which appeal to our customers, primarily medical device distributors. Pro-Dex also sells rotary air motors to a wide range of industries. Pro-Dex's products are found in hospitals and medical engineering labs around the world. For more information, visit the Company's website at www.pro-dex.com.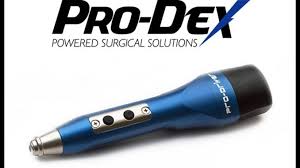 INTERVIEW TRANSCRIPTS:
WSA: Good day from Wall Street, this is Juan Costello, Senior Analyst with the Wall Street Analyzer. Joining us today is Rick Van Kirk, CEO for Pro-Dex Incorporated. The company trades on NASDAQ ticker symbol PDEX. Thanks for joining us today there Rick.
Rick Van Kirk: Thanks very much for having me. I appreciate it.
WSA: Yeah, certainly. So for some of our listeners that didn't catch our previous interview from January of last year, can you provide an overview of the company, and talk about some progress since we last spoke?
Rick Van Kirk: Yeah, absolutely. We are in Irvine, California, we've been around about 40 years, largely focused on medical device in particular the last 20 years. We make powered instrumentation for the operating room, microscopic shavers and cranial screwdrivers and products along those lines. We have had a very nice run the last few years, we came through a turnaround that start about five, six years ago. And we, in our most recent news release, we talked about our year end results and fourth quarter results for last fiscal year which ends in June and we had record sales both for the quarter and for the year. And so we have some pretty good momentum going here, I think.
WSA: Right, so how were you able to execute that, revenue growth, which saw a record revenue of about seven million?
Rick Van Kirk: It's a combination of things. First of all, to grow a business for a top line you need to make sure you're taking very good care of your existing customers and maintain that base, which has been a really good job of. And when we've done that, existing customers often have other opportunities and other projects to look at and that's what's been happening. We have grown our second and third projects with some existing customers, they liked the technology, they liked the service. And we continue to try to leverage the relationships and technology and keep building the business that way. On top of that with the success comes the increased ability to reinvest into our business, whether that's developing new products or into equipment, or people or training of the people. So it's kind of a nice snowball effect that the better we do, the more we're able to reinvest and continue to build on things here.
WSA: Right, so yeah can you talk about that business model, as you currently sell the electronic surgical equipments, but are you also looking for branding opportunities there?
Rick Van Kirk: Yes, we serve a number of different ways. We can basically support a customer from anywhere to design and development through manufacturing, through FDA submittals. So we can do engineering work for people, we can do manufacturing work, we can help them design and develop a product under their name. We are also now developing some products, branded products that we can offer to the market. So we're trying to open the aperture there from what we used to do traditionally in terms of our sales approach. And so we've got a couple different avenues we're pursuing now in terms of supporting our customer base.

WSA: Yeah, certainly. And so you currently operate nationally, are you looking for that international expansion? And if so, what are some of the possible hurdles there and some of the pluses?
Rick Van Kirk: We absolutely are, the pluses are, there's a large market and a large need for some of our products overseas. There's a couple of challenges, you know, one is that to ship products overseas, you need certain markings and certifications and some of those bodies that do that certifications are rarely backed up right now, there's a shortage of notified bodies in Europe that help us to see C/E markings and things like that. So we're not alone. Everyone's I think working through the same challenges trying to get some things approved that way. We do have some design improvements that will help us provide some cost relief, I think that they would look for overseas, some of the cost per uses. For batteries, for example, we can help them with some of our new design. So we're working through the paperwork issues and working with our customers to help get to the point where we can support their markets overseas. It's absolutely a goal. It's just not something that happens overnight unfortunately.
WSA: So, what are the main goals that investors should expect to see in the next three to six months, the main inflection points?
Rick Van Kirk: Well, we want to grow the business, we've made no secret of that. And as I said earlier, we were fortunate to have the opportunity to invest in and try to do that would really strengthen our business development group. We have a lot of you know, "Irons in the fire." So we think we are doing the right things, I think our track record over the last four or five years would indicate we're on that path, and we plan to continue to grow the business between the combination of products and new products and new customers, I think that we'd expect more of the same.
WSA: Can you talk a little bit about the management? You know, what additions there have been since our previous conversation?
Rick Van Kirk: Yeah, that's a good question. We have a pretty good combination, I think of experience and new ideas. I have been with the company about 15 years, our Director of QA and RA and compliance and engineering have been here about 15 years, our CFO about six years. And we've got a new Director of Business Development that's going to come in about a year. It's the strongest business development function we've had since I've been here in 15 years. That's where some of the new ideas and new blood is coming, so to speak. To kind of combine our kind of internal operations with matching up with the outside world needs better than we have before. So it's a team that works together pretty well. And some of us have been together a long time. And the new people have been instant contributors I would say.
WSA: Well, good. And so what are some of the main trends that you're currently trying to capitalize right now in the sector? Can you talk a little bit about the sector as a whole?
Rick Van Kirk: Well, I think there's always a need for good effective use of power in the operating room. We have a technology and adaptive torque limiting technology that really makes our product desirable in that space. And that's something that we're trying to leverage through our customer base and into additional customers. So we're trying to meet that need that really kind of help surgeons in terms of ease of use and wear and tear on their hands and efforts and such. That's what we're trying to help people with. And as the results indicate, it's been well received on the field.

WSA: Right, and what are the main drivers that investors should be looking at and perhaps is there something you wish they better understood about the company?
Rick Van Kirk: Well, every quarter obviously, we post our results, and I think they'll see a nice trend that we've turned this thing around from a difficult position about five years ago to one that's profitable and growing. And, like I said, we have plans to maintain that growth. We have what I would call a pretty good culture and alignment from board throughout the building here. We've made the local media's top workplace list three years running. And that's reflective of the survey of employees. So they feel informed, they like working here. We try to communicate a lot in terms of what the goals and objectives and plans are so that we can meet someone in accounting or in the shop or talk to a board member, and everyone has the same understanding of what we're trying to do. I think that helps. I think that helps us be nimble and react quicker to opportunities, because we're all on the same page. I think it's a good time to be part of Pro-Dex, I know we're all excited about it. And we appreciate the support and interest of our shareholders and people interested in us. And let's just encourage people to take a look at our record and people can call me if they have questions. We'd like to share the story whenever we can. But it's been a good run, and we expect it to continue.
WSA: So once again, joining us today is Rick Van Kirk, CEO for Pro-Dex Incorporated. The company trades on NASDAQ ticker symbol PDEX, currently trading at 13.65, a share market cap is around 55 million. For more information, visit www.pro-dex.com. So, before we conclude here Rick, to recap some of the key points here. Why do you believe investors should consider the company as a good investment opportunity today?
Rick Van Kirk: I would just say again, let's take a look at the track record and see what we've accomplished in the last few years and understand that we don't plan to rest on our laurels. We continue to reinvest in the business and try to keep things going and grow some more.
WSA: Well, we certainly look forward to continue to track the company's growth and report on your upcoming progress. And we'd like to thank you for taking the time to join us today and update our investor audience. It was great having you on for the follow-up and update.
Rick Van Kirk: Thanks, I absolutely appreciate it. I enjoy it and every time I come on.