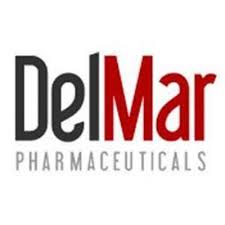 Del Mar Pharmaceuticals
(OTCBB:DMPI)
CEO: Jeffrey Bacha
Podcast: Play in new window
INTERVIEW TRANSCRIPTS:
WSA: Good day from Wall Street, this is Juan Costello senior analyst with the Wall Street analyzer.  Joining us today is Jeffery Bacha, the CEO of DelMar Pharmaceuticals.  The company trades on the bulletin board take a symbol D-M-P-I.  Thanks for joining us again Jeff.
Jeff Bacha: Thanks for having us, Juan.
WSA:  Great, now starting off, give us a history and overview of the company for some listeners that are new to your story.
Jeff Bacha:  We started DelMar in 2010, around a small molecule drug candidate that we had identified from some work that had been done at the National Cancer Institute several years ago.  And what intrigued us about the drug was that there was clear activity in a number of different cancers with this compound and the mechanism and the chemical structure were distinct from any other chemotherapy that had been approved by the FDA.  So the old data, the mechanism and the uniqueness of the compound got our attention.
Our team has actually been involved in this type of work before.
The DelMar team was previously at a company called ChemGenex, which was acquired in 2012.  When that happened, the team members spun out and started DelMar around this next asset.  So, DelMar is same business model that was a success at ChemGenex with a different compound which we believe is an even bigger opportunity.
We tookDelMar public early 2013 in order to fund the development work.  We currently have that drug, VAL-083, in a Phase One-Two clinical trial for Refractory Glioblastoma and, as you mentioned, we just recently presented clinical progress data at the Society for Neuro Oncology annual meeting.
WSA:   Yeah, well can you talk about that compound VAL-083 and some of the clinical applications there?
Jeff Bacha:  Well what initially interested us was the clinical data in brain cancer from the NCI's work.  Back several years ago, the National Cancer Institute was funded to try to find a cure for cancer, so they threw basically whatever they could get their hands on against the wall to try to cure cancer.  And in that wall there is a little key-hole called the "blood brain barrier" and most things didn't get through it because your body is designed to keep drugs away from your central nervous system.  VAL-083 happened to get through that little keyhole; gets across the blood brain barrier.  And so, a fair bit of the National Cancer Institute's work was in brain cancer.
So that intrigued us, and in addition to the very strong data that was already there, the other thing that was interesting was the mechanism.  In fact, VAL-083 appeared to be active after patients had failed other therapies.  And so all those things together brought us to hypothesize that we could bring it forward in gloiblastoma in patients that had failed temozolomide, the lead drug in the treatment in gliablastoma and also patients that have failed another drug called Avastin, which is currently second-line therapy.
Now we've shown that VAL-083 is active in tumors that are resistant to those other therapies, and we are advancing in clinical trials in that arena.
Another thing that is interesting about VAL-083 is that this molecule is actually approved in China for the treatment of lung cancer.  We didn't start out looking for a Chinese drug, it's just pure serendipity that this happens to be the case.  VAL-083 is seen as an older compound in China as well, and the sales are not particularly remarkable.  So, we've also been generating new preclinical data in lung cancer that can help to reposition the product, hopefully grow the sales in the market where it's already approved, and then eventually leverage that to bring the drug forward in lung cancer which is, of course, a very large market opportunity that still has some tremendous unmet medical needs.
WSA:   Certainly, and what were some of the drivers there behind recently announced quarterly results?
Jeff Bacha:  Well, what we have been doing is progressing in the clinical trials.  And so the news flow that comes out of our company is mostly related to clinical progress.  We're advancing VAL-083 toward a registration directed trial; this would be the last clinical trial before we apply to the FDA for approval.  And we anticipate that the progress that we are making in our current clinical trial will position us to move into that registration directed clinical trial in the first half of next year.  So a lot of news you will hear from our company will be related to that.
During the past quarter, we also were able to present some new data in lung cancer.  This is the pre-clinical data but it really demonstrates that the drug has utility in the treatment of lung cancer in the modern age. And we are pretty excited about expanding beyond brain cancer and into clinical trials in lung cancer in the near future.
From a financial perspective, we were able to announce that a number of warrants held by shareholders of our company that were exercised for cash, which provided additional funding.  And so we've got capital to support current operations through the first quarter of 2016, which is a fairly strong cash position. The exercise of these warrants also is continuing to help us make steps toward moving the company from the over-the-counter exchange to a National exchange such as NASDAQ.
WSA:   And what are some of the factors that you feel make the company unique from some of the other players in the sector?
Jeff Bacha:  I think a couple of things.  In general, in terms of young drug development companies, the fact that this molecule has so much clinical history from the National Cancer Institute means that we're not starting with something that we pulled out of a university with some animal data.  Rather, we actually have good, strong human clinical data as a basis on which to build our company going forward.
Secondly, our team has done this exact same thing before.  So, the experience around the table of taking an older molecule; wrapping new intellectual property around it; filing new patents; and, bringing it forward in a new indication where the mechanism says we can solve an unmet medical need:  We've done this before successfully.
And thirdly, the strong financial position that we are in.
That's really what has driven the interest in the company.  I think the combination of those things and, of course, the fact that the drug is actually approved for a major indication such as lung cancer somewhere in the world is just gravy on top of that.
WSA:   Certainly, what are some of the other key goals and milestones you are hoping to accomplish over the course of the next six or 12 months?
Jeff Bacha:  Well, number one is moving into the registration directed clinical trial and refractory glioblastoma.  This should be an 80 to 100 patient clinical trial that would position us to file for approval with the FDA in refractory glioblastoma in late 2016, or early 2017.
Number two:  Progressing from a capital markets perspective onto a national exchange such as NASDAQ.
And third:  To make sure that we have sufficient funding in order to have our registration directed trial fully funded through approval.
And then finally: To initiate clinical research in new indications and begin to build our company by bringing other drug candidates into our pipeline.
WSA:   And perhaps you could walk us through your background and experience Jeff and talk about some of the management team there.
Jeff Bacha:  Sure, well my background originally is biophysics, so I do have a science background and that's what really has led me to spend my career in this field.  I also have a background in finance.  I studied science at the University of California San Diego, and then did an MBA for the focus in finance at Emory University.  I spent some time working in a Big-4 accounting firm before being recruited back to the operating side of the world nearly 20 years ago.  And I've been working and helping to build and finance and bring forward companies throughout that time.
My co-founder Dennis Brown, our Chief Scientific Officer, was the founder of Matrix Pharmaceuticals as well as ChemGenex; both of those led to successful exits for investors through acquisition.  And of course Dennis' original background is cancer drug discovery.  He has been doing that for well over 30 years.  The remainder of our people on the team: whether it's our CFO Scott Praill, or our Head of Regulatory Affairs, Medical Affairs or Pharmacology – everybody's got at least 20 years of experience in whatever it is they are doing that is going to make our company successful.  I'm really pleased to have such a great team and it's a pleasure to work with such an experienced group of people.
WSA:   Great and so as far as investors and the financial community are concerned, do you believe the company story and your message and upside are completely understood and appreciated by them and if not, what do you wish investors better understood about the company?
Jeff Bacha:  Well I think the people that know our company and our shareholders are very excited about what we are doing.  I also think one of the challenges of being an over-the-counter company is that the distribution of the story is challenging.  There are certainly restrictions that are put on brokers by being an over-the-counter or penny stock.  Having said that, we've worked hard to build visibility:  We've got a number of analysts from well-known Wall Street firms who have initiated coverage and given buy recommendations on our stock.  You can access their reports on our website.
And we've also worked hard to continue to build the shareholder base and the volume in the trading of the stock, and we are pleased that we are making some progress there.
We always are willing to share the story with a broader group of people and really appreciate your interest in introducing our company to the folks that are involved with your publication as well.
WSA:   Certainly and once again joining us today is Jeff Bacha, the CEO of DelMar Pharmaceuticals which trades on the bulletin board, ticker symbol D-M-P-I, currently trading at 95 cents share market cap is around 30 million.  Before we conclude here, to recap some of your key points, why do you believe investors should consider the company a good investment opportunity today?
Jeff Bacha:  Well, we have a later stage clinical asset with evidence of activity in our target indication glioblastoma from historical work that was sponsored by the National Cancer Institute here in the United States.
Secondly, we've got a team that has done this before, a very experienced group who has worked well together successfully in the past with the same business model and led to significant value creation and a strong shareholder exit.
Thirdly, we are well financed and have capital through the first quarter of 2016 to fund our current operations which lets us continue to move the clinical programs forward through what we believe will be substantial value building milestones – such as advancing into a registration directed clinical trial – in the first half of next year.
And finally, the commercial opportunity provided by the fact that VAL-083 is actually approved in a major indication such as lung cancer in China.  We eventually will plan to expand our development to include other indications such as lung cancer.
So, all of those things taken together create a lot of excitement for us and hopefully for others to get to know our company as well.
WSA:   Well we certainly look forward to continue to track the company's growth and report on your upcoming progress and we'd like to thank you for taking the time to join us today and update our investor audience on DelMar.
Jeff Bacha:  Very good, thank you as well.