ABOUT: Platinex Inc. creates shareholder value through the opportunistic acquisition and advancement of high-quality projects in prolific Ontario mining camps. Current assets include a 100% ownership interest in the W2 Copper-Nickel-PGE Project near the "Ring of Fire" in northern Ontario and a 75% interest in the South Timmins Mining joint venture with Fancamp Exploration, which is focused on gold exploration along the Ridout-Tyrell Deformation Zone near IAMGOLD's Côté Gold operation in the southwest Abitibi. Platinex also holds majority ownership in Green Canada Corporation, which holds uranium assets in Saskatchewan, Ontario and Quebec, as well as an option to earn as a 100% ownership interest in the Muskrat Dam Critical Minerals Project in northwestern Ontario. For additional information on Platinex, please visit the Company's website at https://platinex.com/.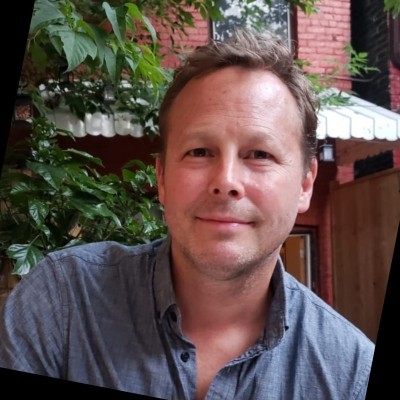 INTERVIEW TRANSCRIPTS:
WSA: Good day from Wall Street. This is Juan Costello, Senior Analyst with the Wall Street Analyzer, joining us today is Greg Ferron, CEO of Platinex Incorporated, the company trades on the Canadian Securities Exchange PTX and on the OTCQB, PANXF as well as for international listeners on Frankfurt 9PX. Thanks for joining us today there Greg.
Greg: Yeah no problem Juan, nice to meet you and a pleasure to be here updating your listeners on Platinex.
WSA: Yeah good to have you on so can you please start off with an introduction of the company for some of our listeners that are new to the story along with your projects there in Ontario.
Greg: Yeah definitely happy to do so. So Platinex—we're based in Toronto as mentioned —we're listed in Canada currently on the CSE under the symbol PTX and we've got a very high-quality portfolio a diversified portfolio in Ontario with our flagship project is a copper nickel platinum palladium project called W2.
We have a hundred percent interest in that that's got a historical resource and we're currently modeling the hundred drill holes and we'll begin drilling that in January. We've also got a very interesting gold joint venture with Fancamp in the Abitibi southwest of Timmins. It's a major gold region as you're probably aware number five in the world and we're surrounded by mills and operating mines and we're working on developing the gold resources further in a very nice gold portfolio called Shining Tree in Mallard and then we've also got a large equity interest in the uranium company that's going public called Green Canada.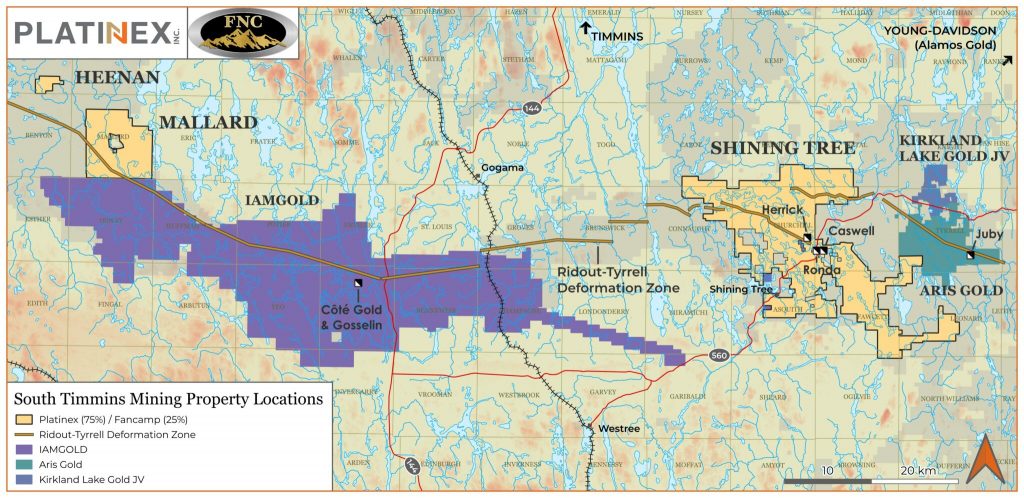 WSA: Why do you believe Platinex represents a good investment opportunity today?
Greg: Okay well I'd say three reasons right now. One we've got a very nice diversified portfolio of projects in a safe jurisdiction and there's a real push to develop these critical minerals in safe jurisdictions and I'll get into more of that a little bit later. The second reason, I think there's going to be a real push of investment into energy and mining over the next decade in safe jurisdictions. So I think there's a lot of value in the sector right now.
And I think companies with attractive portfolios of advanced stage projects in good jurisdictions are going to be very well received by the market in the near term. And then from a value standpoint, if you look at the portfolio, we've got about a 10 million market cap Canada, we've got a very strong shareholder base. We've got about 2 million in cash, we've got a 2 million equity investment in that uranium company, which is going to go public. We've got a royalty portfolio worth approximately $2 million. We've got a gold joint venture partner and a very high quality asset base in the gold sector.
So I think that joint venture interest is going to be that very valuable in the next 24 months. And I'll talk more about that later. And then I think we've got one of the best copper nickel projects in Canada called W2 in the northern part of Ontario, where there's a lot of infrastructure coming in and a lot of interest in this under explored Oxford stalled dome that's called better known as the Ring of Fire.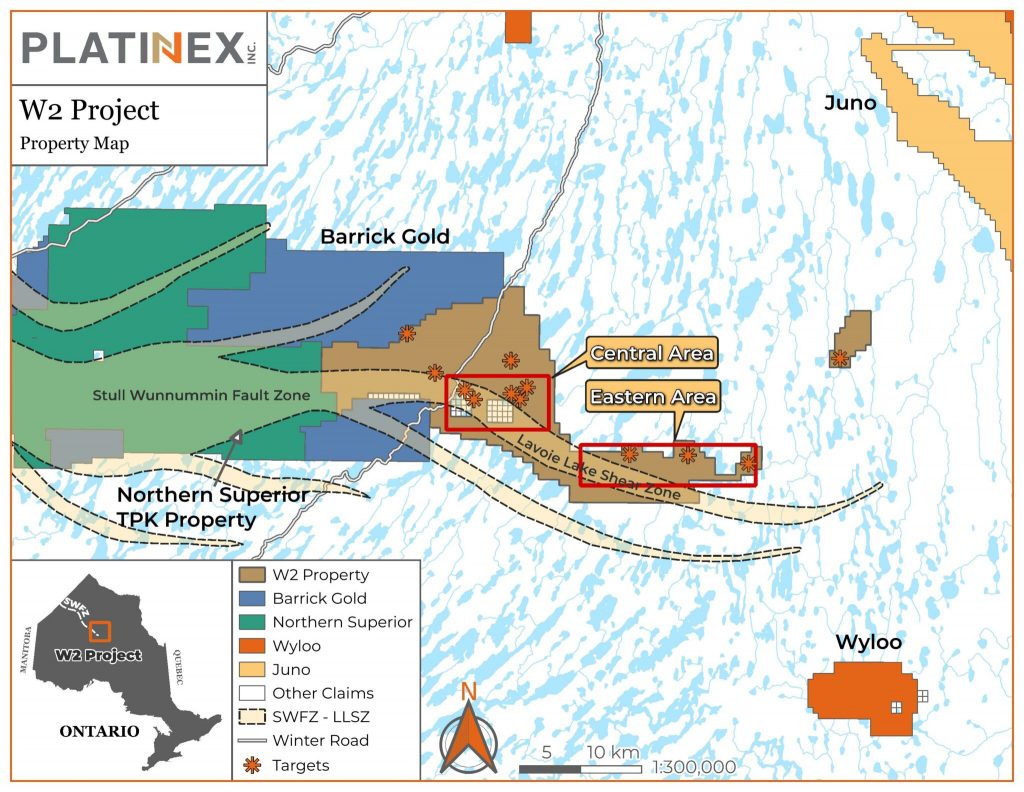 WSA: So bring us up to speed on the most recent news and activity, including the potential expansion of surface gold mineralization at Mallard.
Greg: Okay, so I'll handle this two ways, Juan. I think I'll talk a bit about the news we've had recently, and then what we're going to do over the next six to 12 months. So I think the most important development, at least in the short term, was that spin-off we announced of Green Canada Corp. So what we did there is we spun off our muskrat dam project and four uranium projects in Canada, two in Saskatchewan, one in Ontario, one in Quebec, to a new company called Green Canada and we raised half a million dollars to go public and we've also retained, Platinex has retained a 60 % equity interest in that subsidiary and I think as we list this and make another couple of acquisitions, it could become a very valuable company which will ultimately dividend those shares to our Platinex shareholders.
So I think that's going to be a big development and then that's allowing us to focus on our portfolio as mentioned, the Copper Project and the Gold Joint Venture. So the other thing we've been doing the last little while is preparing for a drill program in our Gold Portfolio with our Joint Venture Partner. So we spent the last couple of years getting Shining Tree which is a fast producing mine and Mallard which is a discovery by Miranda, getting that ready for drilling, you know, understanding the historical resources, the historical production, looking at targets, you know, doing the typical gold until the mag surveys, those type of things, the soil sampling, the trenching work which we're going to announce the trenching results shortly and then that positions us to begin drilling shortly in Mallard and then in the New Year we'll begin drilling at Shining Tree.
And then at W2, as mentioned, we've got the permit expanded the project and now we're modeling creating a new geological model and a 3D model on the 100 drill holes at W2 and then we'll begin drilling that in January.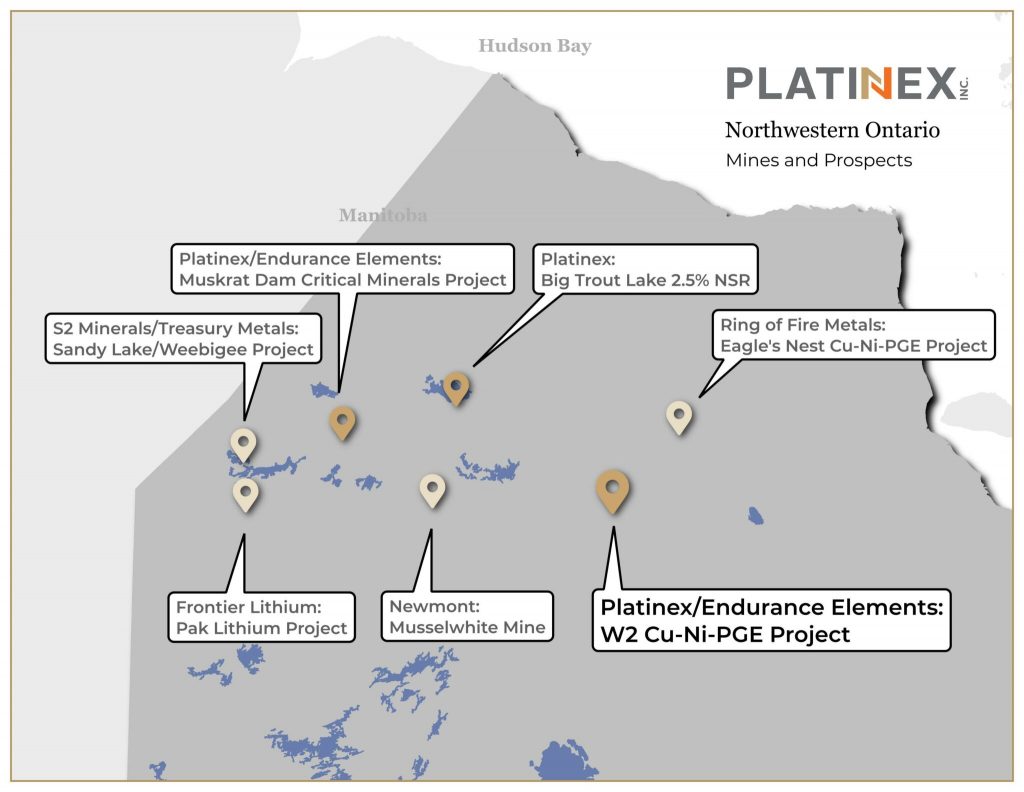 WSA: Appreciate that and so can you discuss your joint venture strategy and the synergies that you look for and potential partnerships?
Greg: Sure. So, you know, as mentioned, what we do is we buy these undervalued assets that have had historical work by majors, so Inco, Miranda, Vulcan Bridge and then we take advantage of that, you know, these projects were dropped for different reasons as these large companies were acquired or for, you know, fluctuations in the commodity prices and so then we create value in two ways through taking exploration through a very good exploration team to advance the projects closer to production.
And then we either look to bring in a partner, or we look to spin off these things. So, Green Canada is a very good example. There's a window right now. There's a lot of interest in uranium and nuclear. And we've got a great portfolio. I've got a lot of experience working in the nuclear and uranium sector. So, we're spinning that off, and we'll reward shareholders with a share of that spin off. And then in the case of our gold portfolio we brought in a partner not only had synergies and expertise, but they actually had a project in the area of Shining Tree. So, they owned a 100% of Mallard, and we owned 100 % of Shining Tree. And now by combining those projects, we owned 75% of that joint venture. They owned 25%. And then by spending additional funds, they'll get to 50%. So, not only had synergies working in the same camp, and expertise, but I brought in capital, and a new project, trying to create a real interesting gold exploration company around the Cote mine in Ontario.
WSA: And what are the key trends that you're seeing right now in the sector, and what makes Platinex uniquely positioned to capitalize?
Greg: Yes. So, I'd say the big trends are, one, you're seeing a real push from industry. And you're starting to see it from strategic investors and governments to invest in critical minerals for the energy transition to bring more clean energy. So, things like nuclear, for example, and natural gas. And then you're also seeing a real interest in those commodities to develop the batteries and technology and all the gadgets we use every day.
So, there's a real push to have a steady supply of resources in safety restrictions like Canada, in particular Ontario, Quebec, Australia, for example, and not have to rely on those resources from, say, Russia or China, for example. So there's a real interest in governments to streamline the permitting, to invest capital, to bring in infrastructure, to fund feasibilities. So these automobile manufacturing, for example, Silicon Valley, wherever these metals are used for windmills and solar panels, you've got a steady supply. So I think it's a perfect backdrop where there's a lot of value in the sector. There's going to be a real push in the next 10 years to supply more of these critical minerals.
And I think with that, you'll see a significant amount of capital starting to come in from investors around the world and then Platinex is well positioned because of our portfolio and presence in Ontario.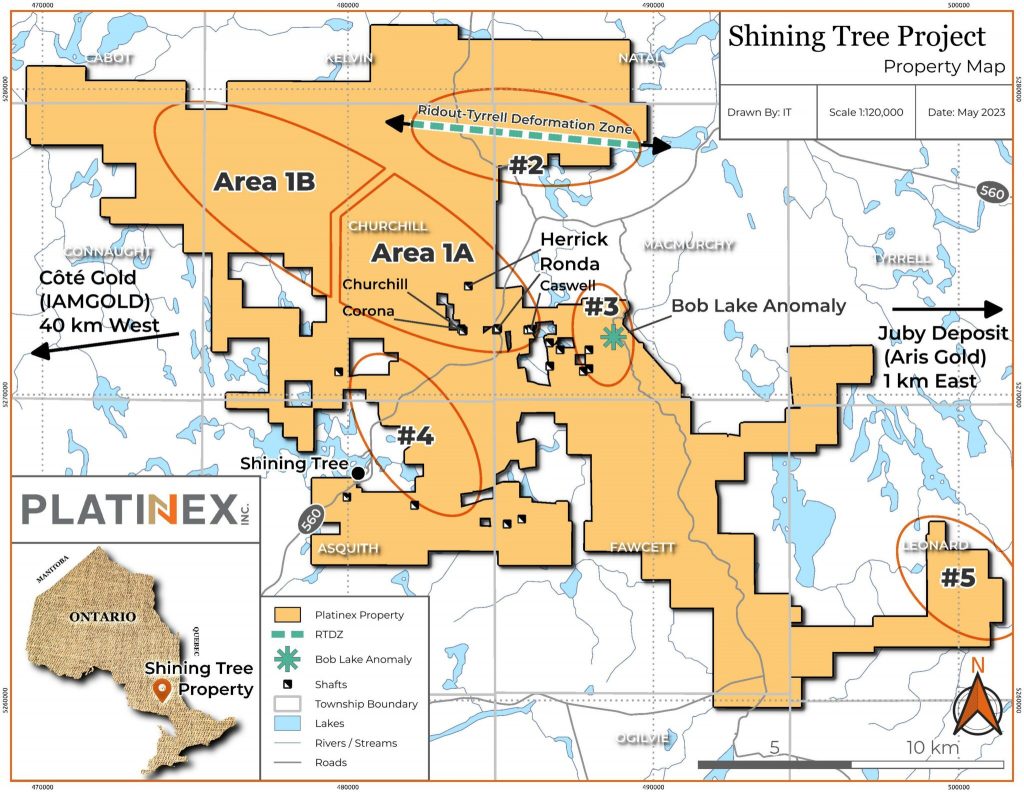 WSA: Before we conclude here, can you talk a little bit more about your background experience, Greg, along with who the key management team there is and how your interests are aligned with current shareholders?
Greg: So I worked in capital markets for about 10 years in trading, corporate finance, and stock exchange. And then I've worked for over a decade now in building some very good companies. So what we do is we acquire these projects, finance them, take them through permitting, take them through discovery. So I was the CEO of Treasury Metals, created one of the largest gold developers in Canada, took that through environmental assessment permitting. I was involved with Laramide, which is a very strong uranium company listed in Canada.
And yeah, so with this company, I'm the CEO. We put together a nice portfolio in the last couple of years. We've put together a very strong shareholder base of mining companies own 25% of it, about 25% of its owned in Europe. I've been a large buyer of the shares, so I'm aligned that way. I keep very close contact with our shareholders.
We've got a very experienced board of directors. We've also got a very experienced technical team, both people in the field that are younger doing the day-to-day work. Then we've got a technical advisory committee that have worked on a lot of these projects, as I mentioned, when they were previously owned by past operators. In the case of W-2 Inco, Aurora Platinum, in the case of Muskrat Dams, and other Inco project. Then the Shining Trees had a number of different owners like Vulcan Bridge, for example, Miranda and Heenan Mallard. That's really the strategy and a bit about my background.
WSA: We certainly look forward to continuing to attract the company's growth and report on the upcoming progress. We'd like to thank you for taking the time to join us today, Greg, and update our investor audience on Platinex.
Greg: Yep, my pleasure. Thanks, Juan.