ABOUT: Midnight Sun focuses on the exploration and discovery of world class copper deposits in the prolific Zambian-Congo Copperbelt. Midnight Sun's Solwezi mineral exploration licenses in Zambia are located directly adjacent to the largest copper mine in Africa – First Quantum Minerals' Kansanshi copper/gold mine. The Zambian-Congo copper belt is host to some of the world's richest mines, with operators that include Barrick, Rio Tinto, Glencore, Ivanhoe Mines, and First Quantum. For more information please visit: COMPANY WEBSITE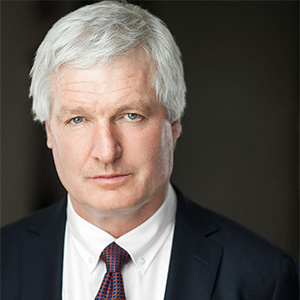 INTERVIEW TRANSCRIPTS:
WSA: Good day from Wall Street, this is Juan Costello, Senior Analyst with the Wall Street Analyzer. Joining us today is Alan Fabbro, President and CEO at Midnight Sun Mining Corporation. The company trades on the TSX Venture, ticker symbol MMA. And since we last spoke about a year back now on the OTCQB, MDNGF. Thanks for joining us today there, Al.
Al Fabbro: Nice to see you again, Juan.
WSA: Yeah, great, you too. And so can you give us an intro and overview of the company for some of our listeners here might not have caught the last call?
Al Fabbro: Okay, basically we've had a tumultuous year. As the last time we spoke, we had a significant joint venture with Rio Tinto. Rio Tinto spent about $10 million on the property over the last two and a half — three years. They had very specific exploration targets, which the results didn't meet, but they required and they decided to hand the project back to Midnight Sun. At the time, we were a little disappointed with with that result, but because I wanted to see what kind of potential that geologist thought we still had on the property. What did Rio Tinto actually kill as far as targets on the property and what were still alive?
So I hired Simon Dorling. He is a Copperbelt expert to go through all the data generated by Midnight Sun by First Quantum, by Rio Tinto, take the whole data package, come back to me and say, "what do we do next?"And so Simon did that and Simon said that Rio did excellent work. They were looking for a very specific target when that didn't appear to be correct, their modeling was incorrect, they didn't have another idea and they decided to walk, which is standard operation. So Simon came back and said, the targets that they killed were Gameno and that's it. Dumbwa was very much alive. Mitu was very much alive. And the 22 Zone, which Rio thought they had killed was alive but in a different form. It was a different model than Rio anticipated.
So based on this report, we put together a budget of $1.5 million dollars to drill 4,000 meters of holes this year to test four separate target areas. That program started about a month ago. We've just completed our fourth hole. Two of the holes have hit significant mineralization. We're cutting and sending for assay now and we're drawing a third on a Mitu Trend that could be really caught, really confirm a major discovery. So we're very busy. We own 100% of this land now and yeah, we think we're on onward and upward.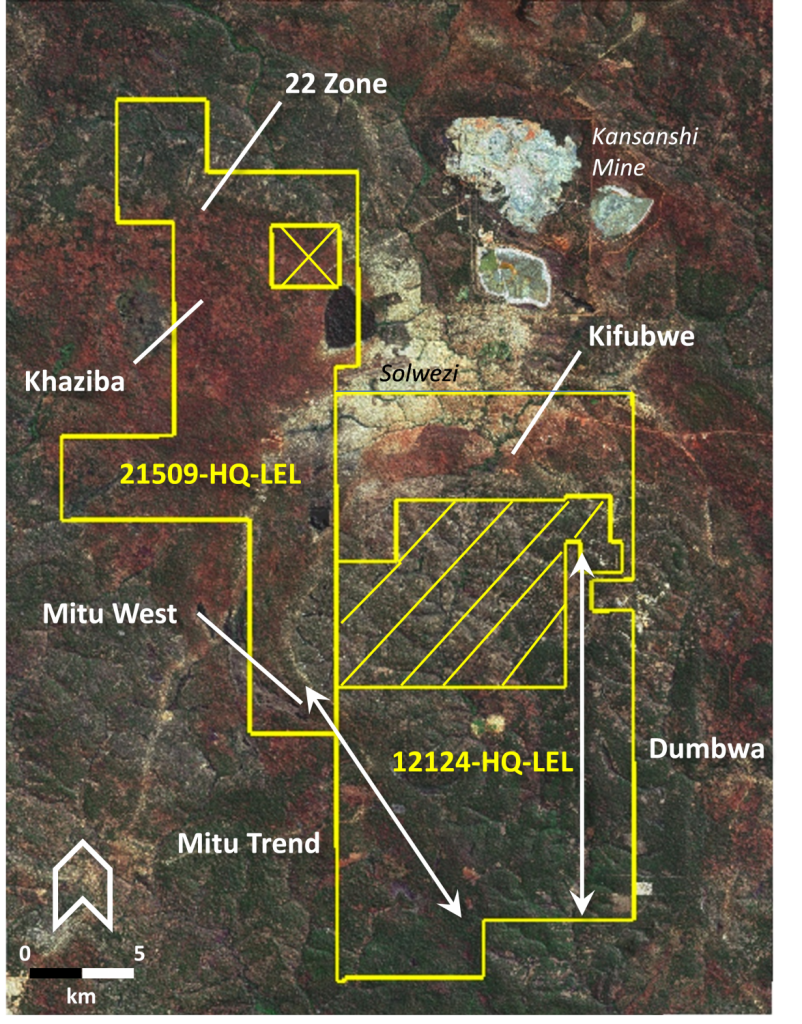 WSA: Right. So yeah, looking at the map here so it's basically a reinterpretation of the zone so now you get your stretch getting more of that north, south stretch on the Solwezi. Can you talk about the property?
Al Fabbro: Yeah, that was part of the problem. We had to add a little bit mismodeled; Us, First Quantum, and Rio. We had Mitu running north south down the contact with the Solwezi Dome. And Simon picked up from Rio Tinto's geophysical work that there was subtle structures going north east. And he said he thinks that was the potential of Mitu, it wasn't going north south. So a lot of the holes that we drilled to sort of cut Mitu off didn't really do the job. So this program was designed to see if these structures were part of the Mitu Trend and did they contain mineralization. And so far the answers are a resounding, yes.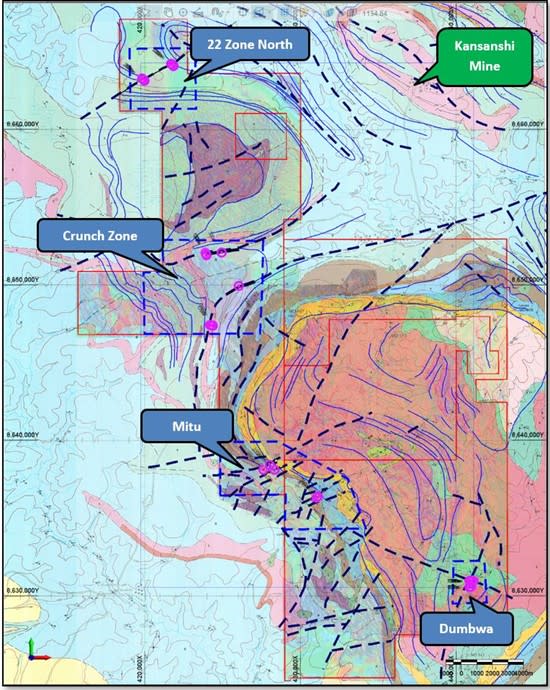 WSA: Well, great. Yeah. And so what are the key goals and milestones that investors can look for over the course of the next six months?
Al Fabbro: Well, there are six months, we're about 800 meters into this program. So we've got another 3500 meters of drilling so to speak. The results at Mitu will drive the rest of the program. Initially, we had planned to drill holes up at the 22 Zone up in the Western Flank and along the Dumbwa Trend. Those plants might go for — be delayed until we can see the true potential of Mitu. If we keep getting success like we're seeing in Mitu right now, we'll keep driving on Mitu.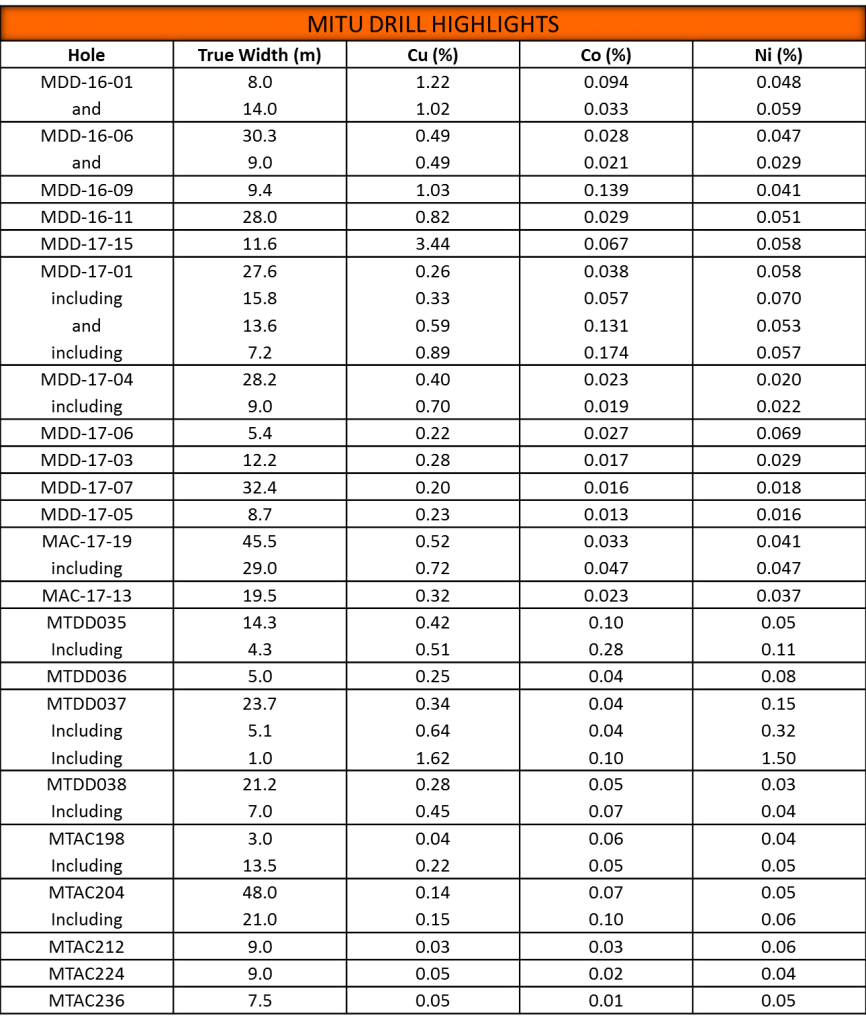 WSA: Yeah, for sure. And so in terms of the company, what factors do you feel make you and the project unique from some of the other players there in the sector and able to take advantage and capitalize on the current trends?
Al Fabbro: Well, there is a couple of things that have happened since we talked last. First of all, there was a Zambian presidential election but a new regime took over. There was a very peaceful transition of power. And the new president has come out explicitly stating that he wants to do better business with the copper industry and make it more of a win-win situation for the government and the companies there. So he has created a very strong business environment to explore and develop in Zambia. So that's first and foremost. And he made such an impression at Indaba this year that Mark Bristow came out and said, we were looking to divest in Zambia, now we're looking to acquire in Zambia. And I think that speaks volumes for the change in attitude of that government because Barrick has not had great success in Zambia from the day they acquired their project to today.
And now, for them to be looking to acquire projects in Zambia speaks volumes. So the business environment has changed considerably. The copper price is still very strong. It's in the mid threes. And the other thing that's really positive for Midnight Sun is that we are within 20 kilometers of First Quantum's Kansanshi Mine. And anything that we discover here that may not be big enough for a standalone mine could and probably would be developed, co-developed with First Quantum in some form or fashion. So the infrastructure in this area is maybe the best in the world to explore for copper and find copper and develop it quickly and efficiently.

WSA: Yeah, great. And can you talk about who the key management there is, what the skin is in the game?
Al Fabbro: I've been with this company about 10 years. Our former President, Brett Richards is still a key director. Rick Mazur is our professional Technical Geologist on-site. Bob Sibthorpe is our VP Exploration. Matt MacKenzie is our Corporate Secretary. And then the key guy right now in this whole thing right now is Dr. Simon Dorling. He is a professional Geologist, Consulting Geologist that specializes in Copperbelt Geology and it's his interpretation of the geology and the data to date that has led to this new interpretation and the new potential at Mitu and so far it's proving accurate.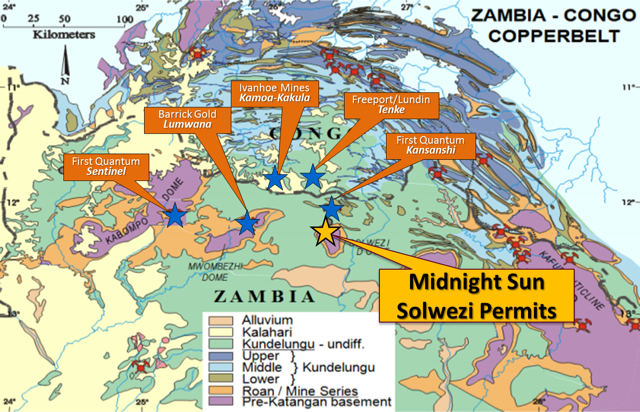 WSA: And so you listed on the OTCQB since we had our last spoke…
Al Fabbro: Yeah, we did that last year. We actually surprisingly have quite a few shareholders in the United States and we continue to get more. So we thought that in the sense of fairness it would be easier for them to trade the shares of the company that we do that listing. And it was an extensive process but we think it was well worth it.
WSA: Yeah, certainly. And as far as the US share price currently it is currently about $0.14.
Al Fabbro: $0.14 or so, yeah. We were probably in the low 20s when the Rio announcement came out. The market viewed that as a negative as we did at the time, but the reinterpretation and the drilling to date is allowing us to change our opinion of that. And now, we own 100% of this thing and we're on to something we think is significant and time will tell. We'll let the drills do the talking for the next three or four months.
WSA: Right, so before we conclude here, why do you believe investors should consider the company as a good investment opportunity at this point today?
Al Fabbro: Well, this is a geological area of the world that has large copper mines that are very profitable. Ivanhoe's mine, newly discovered mine has just started production to the north. It's about 160 kilometers north of us. First Quantum's Sentinel mines are 150 kilometers west of us. Barrick's mine Lumwana is about 80 kilometers northwest of us. And then Kansanshi, which is the biggest of all of them so far is right in our shadow. So this is elephant country. There is big large copper deposits. We think we're on to one and it's still early days, so there is lots of upside to a discovery and discoveries are what makes junior mining companies worth something eventually. And it's early days I can't guarantee, it's going to be a mine but we're really, really upbeat about our prospects right now.
WSA: Yeah, well, we certainly look forward to continuing to track the company's growth and report on the upcoming progress.
Al Fabbro: Well, we hope we will have you know, it'll probably take six weeks to get to Core cut and assayed and results in, so maybe we could chat again in six or eight weeks and we'll have a lot better idea what we're looking at.
WSA: Yeah, I look forward to that and thanks for taking the time to provide the update. It's always good to have you on, Al.
Al Fabbro: Okay, well, thank you, Juan. Take care.