INTERVIEW TRANSCRIPTS:
WSA: Good day from Wall Street, this is Juan Costello, Senior Analyst with the Wall Street Analyzer. Joining us today is Leslie Klein, President and CEO at C-COM Satellite Systems. The Company trades on the TSX venture CMI and on the OTCQB, CYSNF. Thanks for joining us today, Leslie.
Leslie Klein: Thank you for inviting me Juan, much appreciate it.
WSA: Yeah, for sure. So, for some of our listeners here that didn't catch our last interview from last year, can you give us an overview of the company and introduction.
Leslie Klein: Yeah. The C-COM Satellite Systems has been in business for the last 25 years. We'll be celebrating our 25th year this year. And we are a manufacturer of satellite antenna systems for communication on the pause. They deliver high speed internet into vehicles while stationary.
The company has delivered over 10,000 antennas in 106 countries. We manufacture all our products in Canada through outsourcing. We don't have a factory as such, but we have very good outsourcing companies that provide us with excellent product, high quality, very high reliability at very competitive prices.
These products are used all over the world. We are in 106 countries, as I mentioned, and we have over 600 distributors who buy these products from us in these countries and they resell them, install, support, and maintain them. This makes it possible for the company to remain small and efficient.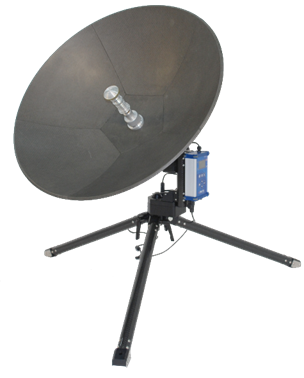 We have 34 people and 30 of them are in Ottawa and four at the University of Waterloo, where we are developing the next generation, advanced electronically steered antenna systems that are going to be ubiquitous in the use of low earth orbit satellites, which are presently a very hot topic. Deployed by SpaceX, Amazon, Telesat and a number of others who are launching billion dollar constellations using this type of technology.
So C-COM has been developing this antenna for the past five years. We expect to enter this multi-billion-dollar market very shortly with a series of products sometimes next year. This electronically steered antenna system will not have any moving parts. It will sit on flat, a couple of inches on top of a vehicle and will be able to track multiple satellites, while the vehicle will be moving. It is a new market for the company. We look forward to changing the mode of the company from selling on the pause antennas to on the move products serving many new vertical markets from terrestrial to marine and aero.
WSA: Yeah, sure. And, can you bring us up to speed there on some of the most recent news as you put out, fiscal year results and presented at the Satellite 2022?
Leslie Klein: The company has delivered some excellent numbers in 2021 and we hope to do much better in 2022. The pandemic had a negative effect on our past performance. Sales have dropped, but we remain profitable and continue to pay dividends. Our sales last year have increased over 40% from the year before and we made over $1.4 million, in profits, and are seeing a resurgence of orders that we'll be carrying us into 2022.
We will be reporting our first quarter results shortly and expect these to be profitable as well. We are seeing a very large demand for the type of products we manufacture from all over the world, after a two year slowdown in the economy.
We are a seeing issues with supply chain management which is affecting a number of competitors in our sector. Fortunately for C-COM, we managed to build a very large inventory of products, so we are not being as seriously affected. We are able to ship products from inventory relatively fast compared to our competitors who are quoting four-five months deliveries. C-COM has significant advantages in that we have great products which we can ship rapidly, these are being shipped all over the world and customers who have been using them are returning and buying more.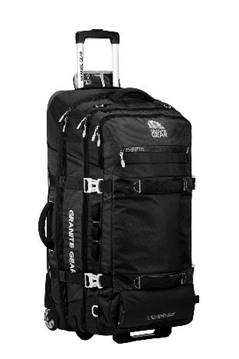 WSA: Yeah, great. And what are the key goals that you're looking at here over the rest of the year and what milestones can investors hopefully look forward to?
Leslie Klein: In 2021, we had some very large orders for our Manpack, which is a backpack antenna that allows you to carry it into the field your back. It can be deployed within minutes, and it will find the satellite within seconds. We sold over 200 of these units to one customer in Japan. There is a very large demand for this type of a product and have sold over 50 units in the last 6 months to a number of customers for different vertical applications.
We expect this year to sell more of these antennas. In addition to that, we are also developing working relationships with companies like Viasat and Eutelsat who are launching new satellites and new services. Our antennas are being designed to be compatible with these new services. And of course, as I mentioned, we are in a commercialization stage of our electronically steered antenna system that will be, developed and used in the Ka-band market space, and deployed with low earth orbit satellites that are being launched. We expect that product to be tested this year and hopefully to be available for sales sometimes next year.
WSA: Yeah, great. And what do you think, you know, makes the company unique from some of the other players around the sector and able to capitalize on some of the trends that you're seeing?
Leslie Klein: I think the advantage that we have over some of the other companies that are also developing this technology is that we are not just an research and development company, we are actually an operating company with profits, paying dividends, have a large number of existing customers, sales and a large distribution channel worldwide. This gives us a tremendous advantage when releasing a new product like this electronically steered low earth orbit antenna, because we have a ready market and a ready distribution channel for this new product. C-COM also has an enviable record of delivering over the past 25 years excellent product coupled with superior service to customers in 106 countries.
The company has some major advantages, not only in the fact that we are developing a very unique antenna system that is going into a multi-billion-dollar marketplace, that will be in high demand in the commercial marketplace where they are intended to be delivered. We are not targeting the consumer market with these antennas. This new business opportunity will open up new vertical markets for us in the aero, in the marine and in the terrestrial markets, where we are presently not active at all.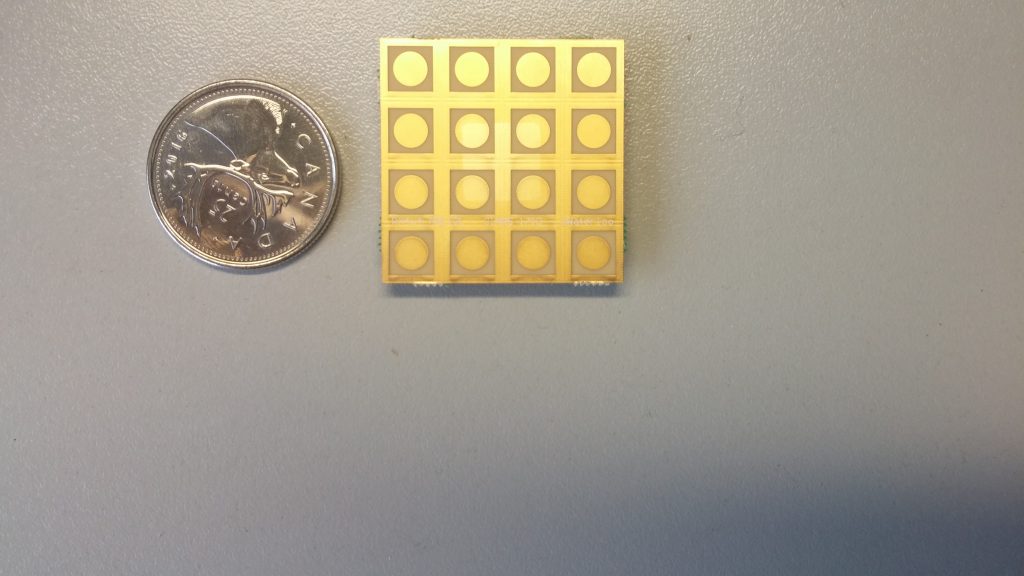 WSA: Yeah, right. And so, can you talk about the management team, what the goals are there as far as and what your skin is in the game?
Leslie Klein: I started the company with another chap who's still here. He's the CFO, his name is Bilal Awada. And we have been at the helm here for 25 years. I own about 40% of the shares of C-COM. I've never sold any shares, because I expect them to be worth a lot more than they are worth today.
We have a total of the 34 people, many are 15, 20-year-old employees and many others who have been with us from the beginning. The team at the University of Waterloo, consist of a number of Ph.D.s, Postdocs and graduate students who are developing this new antenna technology for us.
We are looking forward to the roll out of this new antenna product which we believe will dramatically transform the company.
C-COM expects to continue the progress it has made to date. We also look forward to the increase in the share value of the company due to these large potential opportunities we are working on.
WSA: Right. Well, yeah. Before we conclude here, Leslie, why do you believe investors should consider this company as a good investment opportunity at this point today?
Leslie Klein: I believe that with C-COM entering this new multi-billion dollar electronically steered antenna market and the launch of thousands of low earth orbit satellite constellations consisting of 20,000 – 30,000 satellites our antenna products will be in great demand.
We have anticipated this demand five years ago, and we hope to capitalize on it. As I mentioned, this will be going to be a multi-billion-dollar industry. And there's room for a lot of players. We are one of the early entrants into this marketplace hopefully, with one of the best designed commercial antennas.
I believe that shareholders will appreciate the potential of this or large opportunity that we are going to be entering in the next couple of years. It would make a lot of sense for them to invest in the company at this stage.
WSA: We certainly look forward to continuing to track the company's growth and report on the upcoming progress. And we'd like to thank you for taking the time to join us today and update our investor audience on C-COM Satellite Systems. It's always good having you on.
Leslie Klein: Thank you very much for having me on Juan and I appreciate you inviting me regularly on this show.