INTERVIEW TRANSCRIPTS:
WSA: Good day from Wall Street. This is Juan Costello, Senior Analyst with the Wall Street Analyzer, joining us today is Al Fabbro, CEO and President for Midnight Sun Mining. The company trades on the TSX Venture, MMA and over the counter MDNGF. Thanks for joining us hey there Al.
Al Fabbro: Nice to meet you Juan.
WSA: Yeah, you too. So can you start off by providing an overview of the company?
Al Fabbro: Midnight Sun is a one project company. We've got a large land – copper cobalt land package in Zambia. It's adjacent to and surrounding the First Quantum's Kansanshi mine. We've been working that project for seven years now. Two years ago we decided that it was too tough for us and time to bring in the big boys. So we signed a joint venture agreement with Rio Tinto and they've taken over exploration of the property the last two years. They're earning in 275% interest in the property. Their work commitment is over seven years, will be $50 million US to earn that interest. They don't earn any interest until they spend $20 million US over the next three-and-a-half years. Currently they have just restarted the exploration program at Solwezi which should have extensive drilling on two target areas.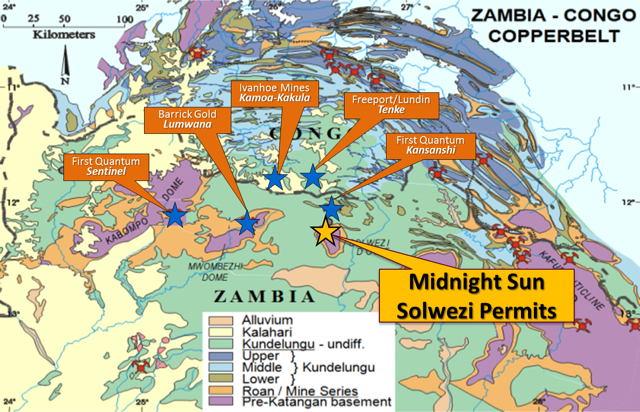 WSA: Right. Yeah. I was just going to say talk about some of the most recent news as you did, you know, you have that target there on the copper project and you also had a couple of prior announcements.
Al Fabbro: Yeah. We're cashed. We had about $4 million and we don't have any work commitments or expenditure commitments on any of that money. Rio is in the process of — they've got annual work commitments of $4 million US. They've spent about a million-and-a-half so far this year so the last quarter of this year should be about two-and-a-half million mostly in drilling. The work that Rio has done for the last 18 months has been more generic or more regional developing targets. Well, we have a big land package. It's mostly under about 50 meters of rock coverage and very little outcrop on this area. So our main exploration tools are geophysics and geochemistry. And so Rio has done a broad based program incorporating all their geophysical data and all their geochemical data, and now they've got some ideas of where to go hunting. So that's what this program is about.

WSA: Yeah. And what are the main goals that you're looking at here over the course of the next six months that investors should keep an eye out for?
Al Fabbro: Well, we're in an area that does produce large deposits. Kansanshi was a billion and a half ton deposit of more than 1%. Barricks Lumwana mine, which is a hundred kilometers to the west is about 800 million tons of 0.8% copper. First Quantum's Sentinel mine is a billion tons of 0.5% copper. Ivanhoe's mines in the DRC is pushing 2 billion tons of 2%. So these are big big deposits and Rio Tinto's broad brush approach is they want something that's north of 10 billion contained pounds of copper, and those are the targets that they're looking for. And they're going to be drilling two of those targets in the next 60 days. Hopefully we'll be giving the markets some very good news in the short term.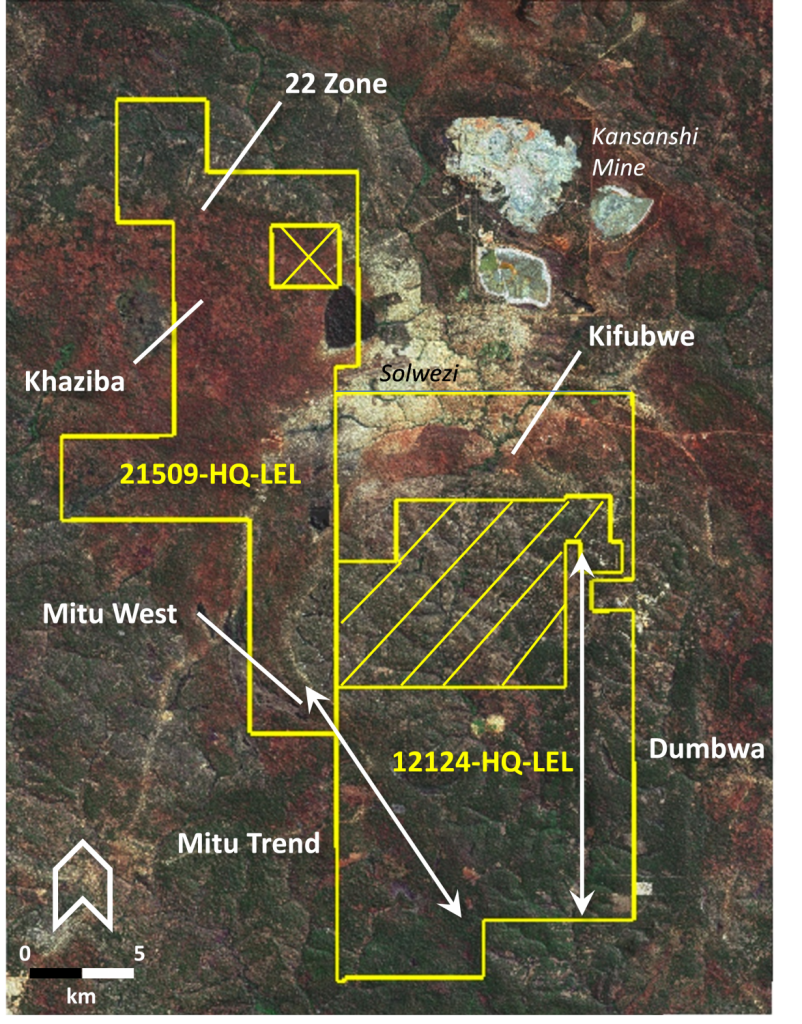 WSA: Well, good. And so perhaps you can talk about your background experience Al, who the key management is, what's your skin in the game?
Al Fabbro: Yeah. We've been at this for a while. I started out as a 16-year-old going into exploration camps and doing bush-whacker work, fell in love with the mining game, got hooked up on the old Vancouver stock exchange floor and became a floor trader for 10 years. And then once the floor went electronic I went into corporate finance for mining deals. I've always loved mining deals. Our MO was to provide financing for public companies that had drill-ready targets that we liked, and we would supply the drill capital to test these targets. And we've sort of done the same thing when we've gone to the private sector. We find targets that we like that need drilling, and see if the deposit is there. Our last go around was Roxgold. We started Roxgold in 2011. We made a big discovery in 2012. It ended up being about a million and a half ounces of high grade gold. Management, we handed off, the company too put it in production and they just got taken out recently. So that was our last foray. We've been on this one for a while. I mentioned this is undercover. So one of the problems we've had is continuity in the deposits. We've had lots of successful hits, but we just can't put the continuity together. And Rio thinks that there are some different interpretations that they've come up with that they think we can solve that problem.
WSA: Certainly. What do you feel makes Midnight Sun and your project unique from out of some of the other players there in the sector?
Al Fabbro: Well, I think we might be in some of the best hunting ground for large copper deposits in the planet. It's a good country to work in. It's English law, English language. So we feel very comfortable there. The infrastructure in Solwezi is incredible. First Quantum has a 250,000 ton a day sulfide plant operating there. They've got a 50,000-plus ton a day oxide copper plant operating there. They've got their own smelt around site. So the infrastructure is good, the road system is excellent. The country understands copper. They want copper development in their country, and if I had to draw it up beforehand and pick a spot where I'd go look for copper and tick all the boxes, this project ticks all the boxes except for the big discovery so far which is coming; well, hopefully.
WSA: Right. And so in terms of investors and the financial community, do you feel that they completely understand your story and if not what do you wish they better understood?
Al Fabbro: Well, I think these stories are never fully understood until they're drilled. It's unfolding for us as we speak right now too, and we don't totally understand it. And that's part of the beauty or curse of exploration – you sort of learn as you go. And right now we've done a lot of the ground work, we've done a lot of drilling. The understanding of the geology of this property has increased 20 fold since the time that Rio Tinto has taken over operation of this project, and now we think that we're using the drill for the best chances of success.
WSA: Certainly. And before we conclude, why do you believe investors should consider the company as a good investment opportunity today?
Al Fabbro: Exploration companies, the needle only really moves when you make a discovery, and you have to be drilling to really make that discovery. We are currently under a huge drill program that we think is going to produce results that we've been looking at for a couple years. And the results will dictate why we think this is a good opportunity now.
WSA: Well, we look forward to continuing to track the company's progress and results. And we'd like to thank you for taking the time to join us today Al and introduce our investor audience to Midnight Sun Mining. It was great having you on.
Al Fabbro: Thanks, Juan.