About: ArcPacific owns the right to acquire 100% interest in the Rickard Gold Project, Timmins Gold Camp, Ontario Canada. The Rickard Gold Project also falls within the Abitibi Greenstone Belt which is world renowned for its gold endowment. The Timmins Gold Camp has produced over 80 million ounces of gold. ArcPacific Resources Corp. (TSXV: ACP) is a Canadian based exploration company expanding the exploration initiative at its historic past producing gold and silver mines. In addition to the Rickard Gold Project, ArcPacific also holds the right to acquire 100% interest in the Blackdome project in Southern BC, and the Silver Lode – Lucky Mike Project near Merritt, BC. The Company is focused on creating shareholder value through new discoveries and strategic development of its mineral properties.
Arc Pacific CEO Adrian Smith provided an update on the Rickard Property and the acquisition of additional patented ground along with mineral and surface rights. The company is fully financed to begin their initial drill program in early 2021. Mr. Smith went over the company's other key assets is Southern BC and future plans on the properties. He also laid out Arc Pacific's key goals for the first half of the new year and discussed why the company represents an attractive investment opportunity.
INTERVIEW TRANSCRIPTS:
WSA: Good day from Wall Street, this is Juan Costello, Senior Analyst with the Wall Street Analyzer. Joining us today is Adrian Smith, CEO for ArcPacific Resources, the company trades on the TSX venture, ticker symbol, ACP. Thanks for joining us today there, Adrian.
Adrian Smith: Yeah, thanks for having me. It's great to be here.
WSA: Yeah, for sure, please bring us up to speed on some of the most recent news as you had an update at Rickard and also conducted a private placement?
Adrian Smith: Yeah, now it's been – we've been busy. We've been consolidating our land package in Ontario around a past-producing a high-grade gold mine that hasn't seen any work since late 60s, the 1960s. So it's a really exciting kind of play for us. We've been able to acquire additional patented ground, which brings in not only the mineral rights but the surface rights as well. So it's going to be a very key piece of land that we can actually stage some of our infrastructure on, so we're pretty excited about that, that's been – that deal has been completed. And then along with that, we've been able to bring in the financing to fully fund our initial drill program, which is looking like it's going to start to get going early 2021. So we're very excited about that.
WSA: Yeah, and for some of our listeners that didn't catch our previous interview, can you provide a general overview of the company and what's been going on since we spoke a few months back?
Adrian Smith: Sure, yeah. So ArcPacific holds three main assets. The Rickard Gold Project is the newest one and is positioned to be our flagship project. It's the more advanced of the three with having some historic production on the project. The other two are a little earlier but they're the fairly significant projects with their own merit. One is a silver project in Southern BC, silver, lead, zinc, silver and copper as well. So that one is receiving a full data compilation that's been done by an independent consulting firm that's processed over 75 separate assessment reports over a period of 100 years.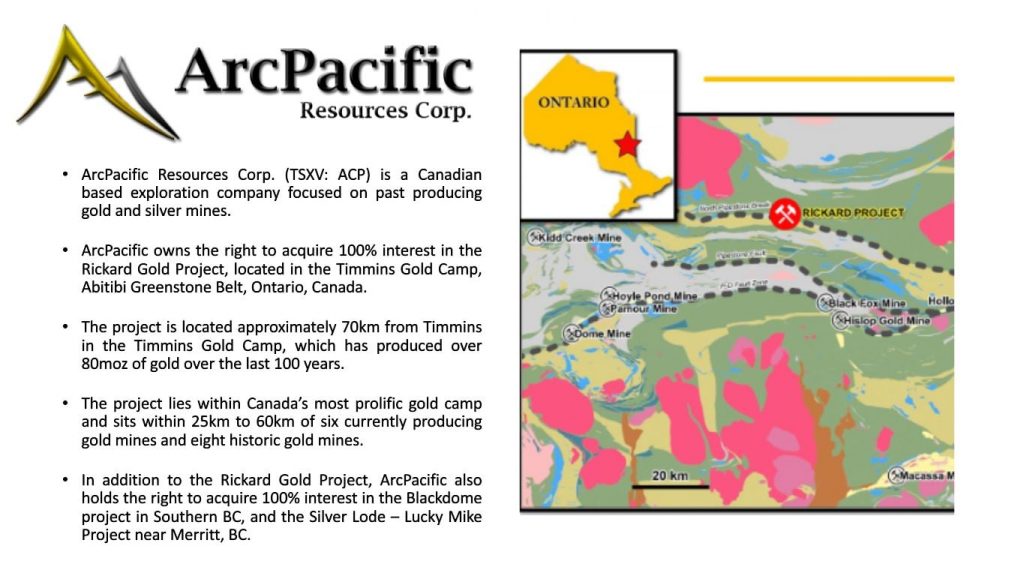 So there is a significant amount of data that we're bringing to a single database, so we're going to have some really interesting targets and new insight coming out of that project that we're going to be releasing to the market shortly here, so we're excited about that. The other project that we have is a gold, epithermal gold, silver project in Southern BC that's never received any mechanical work, so no trenching, no drilling, only surface samples and it's showing very promising results. It's got anywhere between one to 50+ grams in veins that are cropping on surface and no lot of overburden, it's over several kilometer area by several kilometer area that's fairly anomalous in gold and silver.
So that one is a little earlier stage but we're very excited about that project as well. It's going to take a little bit of fieldwork, a little bit of groundwork to go in and kind of get a good idea of what's going on there. So we're planning that for the next year as well. But our main focus is going to be on the Rickard and we've just been kind of diligently working at consolidating the land package and bringing in all the stored data into a modern database so that we're going to be on a solid footing when we start our drilling program out next year.
WSA: Yeah, so in terms of the first half of 2021, what are the main goals that the company is hoping to accomplish?
Adrian Smith: Well, we've already got a few main things out of the way here. We got our drill permits in place for drilling at the Rickard Project and we've been able to consolidate the key land that we need to stage our drilling to give us the best chance at having some nice holes, some nice high-grade intercepts coming out of there. And so there is not a lot left to do. We're really just making sure that we understand the geological model to the best of our ability and we're going to be putting the drill holes in the right location. So that's kind of where we're at.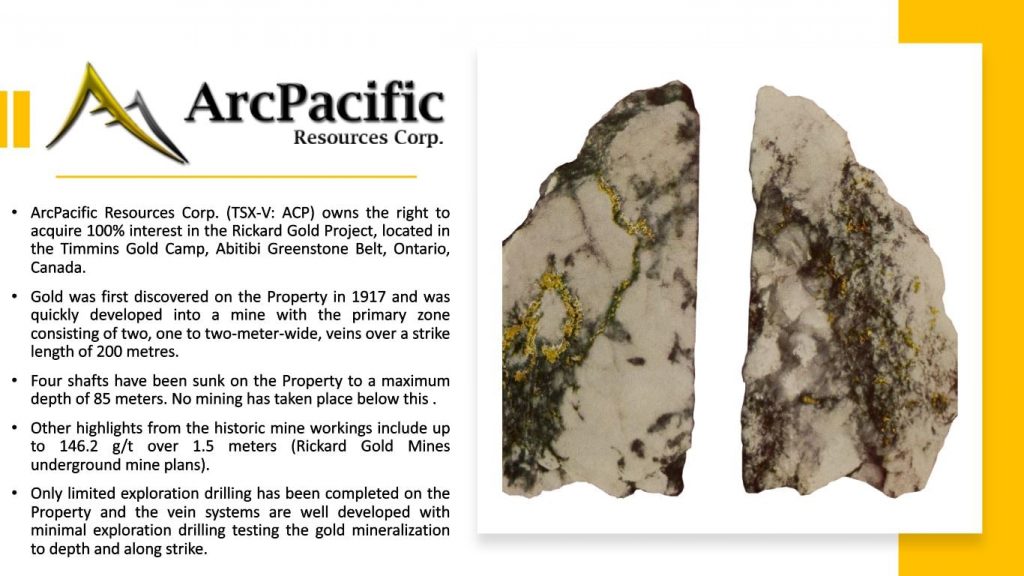 We're at the final drill planning stage and that's going to be the first big step or the first big move for the company is going to actually be getting a drill on site early 2021 on the Rickard high-grade gold project. So that's really what we're focused in on and that's going to be the most significant thing that's going on in early 2021. And then rolling out of that coming into that more of a spring, we'll be initiating some of the field programs on the BC projects as well. But really, the focus is going to be on drilling at the Rickard. So we're very excited about that and we're putting a lot of effort and focus on that.
WSA: And in what way does management's goal align with current shareholders?
Adrian Smith: Well, I think everyone kind of realizes in this market in the junior resource space that it's a very results driven industry. And so our investors are looking for the company to produce some exciting results. And when I saw the opportunity to get this Rickard Project and start to consolidate as land package, it really is in tune with having the ability to go out and drill and get some of these exciting results that the investors are looking for that's going to give them that appreciation in the market and get everyone excited.
WSA: What are the key drivers that make ArcPacific unique and the project unique from some of the other players in the sector and able to capitalize on some of the key trends?
Adrian Smith: I wouldn't say that it's so unique. I would say that it's more in line with some of the more successful companies in the market in having a good project that that has some known results. We're not starting from scratch. We already know that there is a gold system here. We have several vein systems that are well developed. There is several different target areas on the project including the area where there was actually been historic production, so there is a little bit more well-developed knowledge about where the veins are, what the grades are, how they're distributed. And then there is other areas that have seen less work that are total blue sky upside that need to be trenched and drilled and could be part of total new discoveries.
But just moving back into the areas that have been drilled, we anticipate that we're going to be drilling through a gold system. It's very little work has been done in the past. So what we're looking to do is really like the first time that anyone has put a solid effort and just defining the resource potential in these historic goldmine. So that's kind of where we come in where we're going to build that credibility around the project and bring in some excitement by hopefully drilling some pretty spectacular gold samples.
WSA: Great. So once again joining us today is Adrian Smith, CEO for ArcPacific Resources, which trades on the TSX venture ACP. And so before we conclude here Adrian, why do you believe investors should consider the company as a good investment opportunity today?
Adrian Smith: Well, right now we have a good share structure. We have a good group of investors that are coming in and allowing us to finance to do all the work that we're planning. So really it's important for investors to get in early and get involved prior to the drilling because once the drilling happens I mean, that's when the excitement starts. And so if anyone wants to be involved in early stage of a gold-mining company then now is the time to jump in.
WSA: Well, we certainly look forward to continue to track the company's growth and we like to thank you for taking the time to join us today Adrian and provide an update here to our investor audience, it was great to have you.
Adrian Smith: Oh, thanks for having me. Great talking to you.