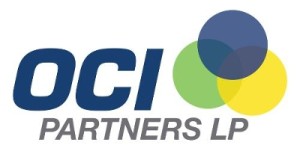 NEDERLAND, Texas, July 6, 2015 /PRNewswire/ — OCI Partners LP, a Delaware limited partnership (the "Partnership"), announced today that it has closed an incremental term loan of $50 million as an additional tranche under its existing senior secured Term Loan B Credit Facility. The incremental term loan will be fungible with the Partnership's existing term loans under its senior secured term loan facility and will have the same security, maturity, pricing amortization, prepayment and covenant terms as the existing term loans under the Term Loan B Credit Facility. The Partnership will use the net proceeds from the incremental term loan to pay for outstanding capital expenditures related to the recently completed debottlenecking project.
About OCI Partners LP
OCI Partners LP owns and operates an integrated methanol and ammonia production facility that is strategically located on the Texas Gulf Coast near Beaumont. The Partnership is headquartered in Nederland, Texas. The Partnership currently has a maximum methanol production design capacity of 912,500 metric tons per year and a maximum ammonia production design capacity of 331,055 metric tons per year.
Forward-Looking Statements
Certain of the statements contained in this press release are forward-looking statements.  Statements that are predictive in nature, that depend upon or refer to future events or conditions or that include the words "believe," "expect," "anticipate," "intend," "estimate" and other expressions that are predictions of or indicate future events and trends and that do not relate to historical matters identify forward-looking statements.  These forward-looking statements involve certain risks and uncertainties, including, among others, that our business plans may change as the methanol and ammonia industry and markets warrant, decreases in the demand for methanol, ammonia and their derivatives and our inability to obtain economically priced natural gas and other feedstocks, our inability to successfully implement our business strategies due to changes in governmental regulations or otherwise, the occurrence of shutdowns (either temporary or permanent) or restarts of existing methanol and ammonia facilities (including our own facility), the timing and length of planned and unplanned downtime, the occurrence of operating hazards from accidents, fire, severe weather, floods or other natural disasters.  For more information concerning factors that could cause actual results to differ materially from those conveyed in the forward-looking statements, please refer to the "Risk Factors" section of the Partnership's Annual Report on Form 10-K for the year ended December 31, 2014 and Quarterly Report on Form 10-Q for the quarter ended March 31, 2015.  The Partnership undertakes no obligation to publicly update or revise any forward-looking statement, whether as a result of new information, future events, changed circumstances or otherwise, unless required by law.
Contacts:
Omar Darwazah
Director of Investor Relations & Strategy
Phone: +1 917-434-7734
omar.darwazah@oci.nl
Logo – http://photos.prnewswire.com/prnh/20131118/NY18666LOGO
This information is being sent to you by:
OCI Partners LP
660 MADISON AVENUE 19TH FLOOR, NEW YORK, NY, 10065, United States
If you would like to stop receiving these types of messages from us, you can unsubscribe at any time.