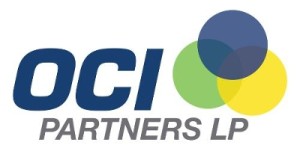 OCI Partners LP
(NYSE:OCIP)
Director of IR: Omar Darwazah
Podcast: Play in new window
INTERVIEW TRANSCRIPTS:
WSA:  Good day from Wall Street.  This is Juan Costello, Senior Analyst of the Wall Street Analyzer.  Joining us today is Omar Darwazah, the Director of Investor Relations and Strategy for OCI Partners LP.  The company trades on the New York Stock Exchange, ticker symbol OCIP.  Thanks for joining us today, Omar.
Omar Darwazah:  Thanks Juan.
WSA:  So, starting off please give us a history and overview there of the company for some of our listeners that are new to the story and didn't catch our initial interview about six months ago.
Omar Darwazah:  Sure, sure.  So, OCI Partners is an integrated Ammonium Methanol Business that's located in Beaumont, Texas.  OCI Partners is a wholly or a majority owned subsidiary by OC Parent Company, OCI NV which is listed on the AX Amsterdam, and is today the third largest nitrogen-based fertilizer producer in the world, and the second largest merchant methanol producer in the United States.  OCIP came to market in October of 2013 and we've been obviously publicly traded since, and the parent company owns about 80% of the total outstanding units today.
Juan Costello:  Excellent.  And so can you talk about the recent restart there of the ammonium methanol production line?
Omar Darwazah:  Sure.  So, just to take a sort of a step back, when we initially IPO'ed the equity story there was that we were selling a portion of the company in order to raise capital to be able to upgrade our facility by about 20% in terms of its annual capacity.  And we just, in fact, completed that project and announced that we restarted our facility back on about a week ago.  And today, our annual capacity for methanol is about 912,500 metric tons a year, and it is about 305,000 metric tons for ammonia.  We increased the methanol line by 25%, and the ammonia line by about 50%.  At present, we've already reached the new design capacity for our ammonia lines, and our country ramping up capacity for the new methanol line, and expect to be fully ramped up to the new upgraded capacity in about two weeks from now.
WSA:  Well, great.  And so, what are some of the key trends that you're focused on right now in the sector and how are you positioning the company to capitalize?
Omar Darwazah:  So, OCIP is obviously a seller of two products, ammonia and methanol, both of which have a very different supply-demand dynamics globally.  And on the one hand, methanol is a product that is used in a vast majority of building material products such as formaldehyde, paint, resins, and MMA.  It's also using gasoline blending around the world specifically in China, Israel, Australia, the UK, and several other countries.  We've yet to see the United States implement the same sort of practice but we do hope to see that come to fruition in the next several years.
In fact there is a bill seating in congress for the past several years that's called the Gem Fuel Build or H.R. 2493, which is the technical name for the bill.  That, ultimately, pushes for more alternative fuel and fuel sources in the American economy.  Today we're seeing ethanol being blended in gasoline but we're yet to see methanol.
So, this is an exciting, a potential upside that we could witness in the next several years.  On the ammonia side, ammonia is predominantly used as a fertilizer.  So, today, I would say 80% of global ammonia capacity is used for the production for fertilizer use.  Ammonia is aqueous in nature and is used predominantly in the United States and in other developed markets, but about 20% of ammonia used globally is also for industrial uses–In mining or as a raw material for industrial explosives et cetera, et cetera.
So, those two products are quite different in nature.  They trade quite differently.  They have different idiosyncrasies.  And we, as a producer of both products, having enjoyed a low natural gas environment in the United States for the past year-and-a-half and certainly during this year, as you probably know, gas prices have barely edged up $3 for MMBTU in the last several–in the last quarter or so, and this is was one of the worst winters that the United State had faced.
WSA:  Yeah, for sure.
Omar Darwazah: So, this has definitely been advantageous for our business from a profitability perspective.  So, we are takers, quite takers of the global commodity price for methanol and ammonia and we are price takers obviously of also the national gas price, but overall we're quite comfortable getting–we're very comfortable with where the products are trading today and expect further upsides on both ammonia and methanol in the short term.
On methanol that's primarily driven by a new methanol capacity that's being added in China, which should add a new merchant methanol demand in the market.  And on ammonia, we're expecting ammonia prices to start to see a bit of some sort of potential upside in the next several weeks ahead of the spring application season here in the United States.  So, again both products typically trade differently however we are comfortable that in the short term we should see some upside on both products.  And on natural gas, if you look at the natural gas features, of course today, you'll see that they're trading at lower levels than where they are today in 8 months and 12 months from now.  So, we feel comfortable that we should be in a low natural gas environment for quite some time.
WSA:  Great.  And what are some of the key factors you feel make OCI unique from the other players in the sector.
Omar Darwazah:  So, you know, OCI has had attract a significant track record in creating value to its shareholders.  In the Netherlands we've done a fantastic transaction in the past where we return significant amount of dividends to our shareholders.  And for this particular entity here publicly traded in the United States, typically MOPs could be used as a draft down vehicle for additional assets.
And today we are, in fact, developing two other assets in the United States.  One is Iowa Fertilizer Company that's based in the Corn Belt.  That's a fertilizer business that's going to be a predominantly selling urea ammonium nitrate, urea and ammonia.  And we are also building a new methanol plant that's right next door to our existing facility in Beaumont, Texas that will be complete in late 2016.
So, after 2016, we could potentially drop down this asset into the MOP and ultimately expand distributions and the earning power of OCIP significantly.  So, this, I think, should get investors excited.  We are not simply a one-asset facility that's a price taker of natural gas, ammonia, and methanol but we are also taking inorganic measures to be able to expand distribution for our unit holders beyond this upgraded capacity that we just completed.
So, I think the future is quite exciting in that respect given the parent company's track records, and given the fact that we're always open to create value, and using the company shares as currency in any potential transaction that we think would be accredited to both the parents and unit holders.
WSA:  Right.  And what are some of the other key goals and milestones you are hoping to accomplish on the next 12 months?
Omar Darwazah:  I mean, I think, for us, as you probably know OCI Beaumont was an asset that was initially built in the 1960s.  We ended up buying it from Eastman Chemical in 2011.  We have to obviously send a significant amount of capital to upgrade the facility and refurbish it.  I think our number one priority is to run as smoothly as possible and ensure that operations are stable.  And I think now that we're done with our turnaround and our upgrades on the plant, we should be able to run the plant at a higher utilization rate moving forward.
So, I think the focus will continue to remain on operational efficiency on the asset.  And along the way, of course, management at the parent company is also–is always looking at potential opportunities that would be accredited to the unit holders.  So, that is something that we're going to always keep an eye out on but I think on the corporate level, we are now focus intensely on ensuring that this plant runs smoothly and has no issues given the fact that it's an old facility that was refurbished.  And I think, you know, so far with the turnaround and this upgrade behind us, I think we're much, much better shaped to run this plant with a higher reliability factor than we had previously.
WSA:  Great.  And perhaps you can talk a little bit about the key management there behind the scenes at OCIP?
Omar Darwazah:  Sure.  So, Frank Bakker is a Dutch Citizen and he's the CEO of the company, and he has been in the chemical space for over 25-30 years.  So, he had significant experience in running fertilizer, methanol, and caprolactam facilities, and this is what he's done in the past and is sort of capacity of the plant manager.  And then, Fady Kiama is our CFO.  And he has been with the parent company for the past over 12 years now.  So, he's obviously a veteran of the company, he's been with us for quite some time.
And then, over and above that, of course we have a very solid board of directors with good enough experience, but even more importantly we have a parent company and a sponsor that is always there to support the business and to inject initial capital if need be, and to ultimately formulate strategies, commercial strategies and corporate strategies for the business as we go along.
So, I think it's extremely important for investors to recognize that OCIP is back to buy a global Dutch specialty chemicals business that's listed in Amsterdam and that has obviously a significant work shed of capital behind it, and expertise, and know-how to be able to pass that along to OCIP's management today and in the future.
WSA:  And as far as investors in the financial community are concerned, Omar, do you believe that the OCIP story, and your message, and upside are completely understood and appreciated by them?  And if not what do you wish investors better understood about the company?
Omar Darwazah:  Sure.  I mean Juan.  I think if everybody understood the story very well then I might as well, you know, take a–take a yearlong vacation, right?
WSA:  Right.
Omar Darwazah:  But there's always room for further improvement.  I'm obviously extremely active on the road meeting investors constantly.  I also meet with resell investors through the various retail conferences that are hosted.  And I think when we initially IPO'ed back in October of 2013, we were really the only other methanol, publicly traded methanol company out there, pure play methanol player than Methanex which is a global methanol producer obviously.  So, it took quite some time for investor education to pass along by virtue of me meeting with investors and obviously speaking about the industry, but now I think, a year and a half later, there's a much better understanding of the business.  You can see that reflecting and also the sell side research.
Today we're covered by Citi, by Bank of America, by Barclays, and by Olympic Global Advisers.  And I would say all four of them have done a great job in educating their respective clients on the industry and on the company.  So, it's been obviously a profit.  These are sometimes intricate commodities to understand in terms of their pricing dynamics, and how they behave, and how they react to policy decisions that could be taken to maintenance of facilities around the world, to downtime, to the various industries that they actually fit into.
So, it is quite–it's always a learning process.  And I feel that every time I sit with investors, there's always something new that they can take away from the meeting even though that they've done their homework.  So, here we are.  You know, I would like to take this opportunity through this interview to also educate investors on the story and on the company.  And I'm always obviously at your disposal to take our conversation further.
WSA:  Well, great.  And once again joining us today is Omar Darwazah, Director of Investor Relations and Strategy of OCI Partners LP.  The company trades on the New York Stock Exchange, ticker symbol OCIP.  Currently trading at 18.69 a share, market cap is north of 1.5 billion.  And before we conclude here, Omar, to recap some of your key points, why do you believe investors should consider the company as a good investment opportunity today?
Omar Darwazah:  Well, you know, I think several things.  One, it goes without saying that we're in a very low natural gas environment, and natural gas is an important raw material for the production of methanol and ammonia.  So, that means that what we're paying for natural gas today is extremely competitive and ultimately reflects immediately in our margins.  Secondly we're at an inflection point today where we've just seen a price hike by Methanex on methanol prices.  And that I believe is expected to sustain firmly in the next several months as we start to see a rebound in prices after last year's decline in prices plus predominantly, on the back of crude oil declining also.  And then, another important point is the fact that we are also at the crossroads of a lot of farmers buying ammonia ahead of their spring planting season.
So, I believe these two short-term catalysts, as well as the fact that we are now in a low natural gas environment that's going to be here with us for a quite some time given the abundance of gas and the supply of gas in the United States makes our equity story extremely compelling.  So, I think we–whoever is looking at the story today, in addition to the fact that we just upgraded our capacity and expect to expand distribution on the back of that, we'll realize that this is a good time to look at the company.
WSA:  Well, we certainly look forward to continue to track the company's growth and report on your upcoming progress.  We'd like to thank you for taking the time to join us today, Omar, and update our investor audience on OCI Partners.  It was good to have you on as always.
Omar Darwazah:  Thanks, Juan.  And always happy to talk to you guys.  I look forward to doing another interview in the next couple of months.