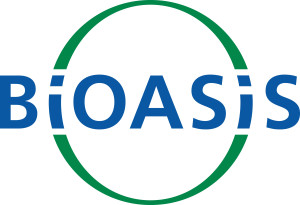 SEPTEMBER 4, 2014 – BIOASIS TECHNOLOGIES INC. (OTCQX:BIOAF; TSXV:BTI), announces that the Natural Sciences and Engineering Research Council of Canada ("NSERC") has awarded a grant to the University of British Columbia ("UBC") in support of the university's collaborative research and development programs with biOasis Technologies Inc. The University and biOasis continue to develop biOasis' extensive intellectual property relating to Transcend and Transcendpep, protein vectors designed to shuttle existing therapeutic drugs across the Blood-Brain Barrier ("BBB") for the potential treatment of previously untreatable Central Nervous System ("CNS") diseases and conditions.
The NSERC Collaborative Research & Development matching fund grant will extend for up to five years, pending continued industry support, with a total value of up to $750,000. The grant commences immediately with the aim of further optimizing the BBB shuttling technology owned by biOasis Technologies Inc., initially for the application to clinical treatment of Lysosomal Storage Diseases ("LSDs").
The award is intended to help expand the collaborative work between biOasis Technologies Inc. and UBC researcher Professor Wilfred Jefferies of the Michael Smith Laboratories. The proposed R&D is based on Dr. Jefferies' original discovery of a protein molecule that allows therapeutics such as lysosomal enzymes to cross the BBB and enter the brain.
The BBB is formed by the brain capillary endothelium and prevents large-molecule neurotherapeutics and most small-molecule drugs from entering the brain.  As a result, many diseases in the brain are untreatable.  Overcoming the difficulty of delivering therapeutic agents to specific regions of the brain presents a major challenge to the effective treatment of most brain disorders.
LSD's are a group of more than fifty distinct diseases that cause physiological and neurological deterioration, predominantly in children.  An LSD develops when a particular enzyme is missing or produced in insufficient quantities, resulting in the cellular build-up of toxic by-products that cause disease pathologies throughout the body, especially in the CNS.Dr. Wilf Jefferies is the principal investigator and research team leader with expertise in creating novel platform technologies for the treatment of human diseases.  The research team also includes the R&D team at biOasis lead by Dr. Reinhard Gabathuler and Dr. Mei-Mei Tian and including up to 10 graduate and undergraduate students and research technicians with expertise in bioengineering, nanotechnology, molecular biology, protein chemistry and related disciplines.  The teams are focused on optimizing and testing the Transcendpep technology to maximize the delivery of enzymes, biologics and other therapeutic payloads to the brain.
"We're very pleased that this project has been supported through the NSERC Collaborative Research & Development (CRD) grant.  This peer-reviewed research grant provides additional validation and support of our proprietary technologies and approaches for treatment of brain diseases.  This grant comes at an opportune time as it will assist in the rapid implementation of new technologies developed in collaboration with UBC for the potential treatment of Lysosomal Storage Diseases and other diseases of the brain," said Rob Hutchison, CEO of biOasis Technologies Inc.
About biOasis
biOasis Technologies Inc. is a biopharmaceutical company headquartered in Vancouver, Canada focused on overcoming the limitations of therapeutic drug delivery across the BBB. The company is developing and commercializing a proprietary brain delivery technology to address unmet medical needs in the treatment of central nervous system disorders. biOasis trades on the OTCQX under the symbol "BIOAF" and on the TSX Venture Exchange under the symbol "BTI". For more information about the company please visit www.bioasis.ca.
Forward Looking Statements
Certain statements in this press release contain forward-looking statements within the meaning of the Private Securities Litigation Reform Act of 1995 or forward-looking information under applicable Canadian securities legislation that may not be based on historical fact, including without limitation statements containing the words "believe", "may", "plan", "will", "estimate", "continue", "anticipate", "intend", "expect" and similar expressions. Such forward-looking statements or information involve known and unknown risks, uncertainties and other factors that may cause our actual results, events or developments, or industry results, to be materially different from any future results, events or developments express or implied by such forward-looking statements or information. Such factors include, among others, our stage of development, lack of any product revenues, additional capital requirements, risk associated with the completion of clinical trials and obtaining regulatory approval to market our products, the ability to protect our intellectual property, dependence on collaborative partners and the prospects for negotiating additional corporate collaborations or licensing arrangements and their timing. Specifically, certain risks and uncertainties that could cause such actual events or results expressed or implied by such forward-looking statements and information to differ materially from any future events or results expressed or implied by such statements and information include, but are not limited to, the risks and uncertainties that: products that we develop may not succeed in preclinical or clinical trials, or future products in our targeted corporate objectives; our future operating results are uncertain and likely to fluctuate; we may not be able to raise additional capital; we may not be successful in establishing additional corporate collaborations or licensing arrangements; we may not be able to establish marketing and the costs of launching our products may be greater than anticipated; we have no experience in commercial manufacturing; we may face unknown risks related to intellectual property matters; we face increased competition from pharmaceutical and biotechnology companies; and other factors as described in detail in our filings with the Canadian securities regulatory authorities at www.sedar.com. Given these risks and uncertainties, you are cautioned not to place undue reliance on such forward-looking statements and information, which are qualified in their entirety by this cautionary statement. All forward-looking statements and information made herein are based on our current expectations and we undertake no obligation to revise or update such forward- looking statements and information to reflect subsequent events or circumstances, except as required by law.
On Behalf of the Board of Directors
Rob Hutchison, Chairman & CEO
"Neither the TSX Venture Exchange nor its Regulation Services Provider (as that term is defined in the policies of the TSX Venture Exchange) accepts responsibility for the adequacy or accuracy of this release"
Company Contact:
Tiffany Tolmie
biOasis Technologies Inc.
Tel: 778-383-3280 x103
tiffany@bioasis.ca
Investor Relations Contact:
Gale Capital
Tel: 604-200-1480
info@galecapital.com