---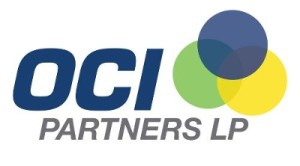 OCI Partners LP
(NYSE:OCIP)
Director of IR: Omar Darwazah
Podcast: Play in new window
INTERVIEW TRANSCRIPTS:
WSA: Good day from Wall Street, this Juan Costello, Senior Analyst with The Wall Street Analyzer.  Joining us today is Omar Darwazah, the Director of IR for OCI Partners LP.  The company trades on the New York Stock Exchange, ticker symbol OCIP.  Thanks for joining us today Omar.
Omar Darwazah:  Sure Juan, thanks for having me.
WSA: Always good to have you on.  Our last interview was back in November 2015 and for some of our listeners that might not have caught some of our previous updates can you give us an overview there of the company?
Omar Darwazah: Sure, OCI Partners is an integrated methanol ammonia business that's traded on the New York Stock Exchange.  We're a master limited partnership.  We have a capacity of about 912,500 metric tons of methanol capacity annually, and about 331,000 metric tons of ammonia.  We've been publically traded since October of 2013, and we've recently recorded our fourth quarter earnings.  We recorded a cash distribution of 32 cents per unit, and provided an update to the market on ammonia and the methanol pricing on the short to medium term.
WSA: Right, please bring us up to speed on some of that recent news, the Q4 results, and maybe you can briefly talk about the combo transaction with CF Industries and other recent activity?
Omar Darwazah: Sure, so as I pointed out, we reported earnings late last week with a distribution amount of 32 cents for the fourth quarter.  We discussed our short to medium term expectations for pricing of ammonia and methanol.  On ammonia we're expecting the spring application season now to come into full force and for that to reflect in pricing for the product; this is a seasonal demand based on farmer application.  And the last fall was actually quite weak, so we're expecting the farmers to make that up in this coming application season.  On the ammonia side we do expect to see some sort of rebound in pricing in the next several months.
In terms of methanol, methanol volatility has been highly tied to crude oil price volatility, but we've seen crude oil prices now rebound significantly over the last couple of weeks from their lows earlier this year.  And that's been actually very beneficial for methanol prices, given that today the single largest driver of new methanol demand is methanol to olefin production in China.  Olefin prices are highly correlated with crude oil prices, those are ethylene and propylene.  So hence obviously higher crude oil prices are reflected in higher olefin prices, which in turn helps push demand for methanol and consequently it's pricing.
On that front we are expecting new capacity to be added in China this year and next year that should add anywhere from 7-9 million tons of new incremental methanol demands in the market.  And that with today's numbers would constitute at least higher than 10%.  The price where crude oil pricing is trading today, a lot of MTO producers in China are now breaking even or maybe slightly losing on the cash margins, but that does not prevent them from ultimately stopping production.  They would rather sort of cover their fixed cost and keep their plants operating versus shutting down.
On that front as well the new capacity that's being commissioned now that the Capex has been fully spent means that these facilities are in fact coming to market within the next 12 to 18 months.  That should ensure that once the market comes back and once crude oil prices rebound even further we should see a higher demand for methanol for the production of olefins.  So that's on the olefins production plants. On the gasoline blending, currently we're seeing higher demand for methanol blending and gasoline now globally.  That's mostly a policy driven demand driver.  For example countries like Australia, Israel, the UK even, and China of course has been leading the world in terms of demand for gasoline blending over the last four, five years.
And that other demand driver is also helping push pricing on the short to medium term.  So we're closely monitoring what Methanex will decide on its North American contract pricing for next month.  But over the last couple of months we've seen a rollover which might signify a bottom in the market.  So we're holding our horses and waiting to see what happens.  That's sort of a quick overview of where we are in pricing on methanol and ammonia.
WSA: How does the situation in China affect some of the trends that you're seeing and expecting?
Omar Darwazah: Well in China we all know that we've seen slower demand growth in general and a slowing of their economy, which obviously tends to reflect immediately in building materials demand, and that ultimately impacts methanol pricing.  So unfortunately some of the conventional metrics in China might be slowing, they are still growing but they're slowing in the growth. Like I said the expectation is that the biggest demand driver will be the MTO production, which is a completely separate, unrelated source of demand for methanol.  That's sort of what we're seeing in China but in general I think at this point in time a general rebound in crude oil pricing is definitely going to fare quite well for methanol pricing and ammonia pricing for that matter as well.
WSA: Certainly, so talk about the significance of having the strategic location near Beaumont and some of the factors that you feel make the company unique from some of the other players in the sector?
Omar Darwazah:  Well we're located in Beaumont, Texas right on the Gulf Coast, which means that we have immediate access to the ports.  Vessels and barges can come pick up supplies for their customers.  We also sell through trucks and through pipelines to our neighboring customers.  These guys get their products on a daily basis depending on how much volume they've committed, and that's quite convenient for them and reduces transportation cost significantly on delivery. We are, I'd like to say sort of in a self-contained ecosystem where our customers and our distributors are, they come to us and they're on site.  I believe that is extremely strategic in terms of ensuring that you have a good solid distribution network that you're selling to your customers.
WSA: Right and what are some of the key goals and milestones that you're hoping to accomplish over the course of the next 6 to 12 months? I think you've discussed most of them.
Omar Darwazah: Sure, I mean I have, but we have actually already achieved a lot of milestones, we have already upgraded our facility by 25%.  This past year after spending we improved the reliability of the facility.  We improved our environmental compliance with the ETA.  There were things that we were obviously given temporary permits until we had to do the refurbishment.  So over the course of the last 12 months actually we have achieved a lot of these milestones, and since we had record production months in December and January which is again a testament to the fact that the cap expense on the facility has actually improved it dramatically and improved its reliability accordingly, which means obviously its potential earnings power.
So we have achieved these milestones so I think moving forward the goal is really to maintain the status quo.  Obviously we are price takers in terms of the global commodity market.  There is only so much we can do on the pricing side, but what we can do on the operation side is ultimately ensure that the plant remains and runs as efficiently as possible with as little stoppage time as the team can mitigate.
WSA: Right, and so as far as investors in the financial community what are some of the key drivers that you wish perhaps they better understood about the company or sector?
Omar Darwazah: I think we're actually a very straightforward company to understand, you know you've got two, three key commodities that you need to keep tracking methanol, ammonia and natural gas.  Natural gas has been on our side over the course of the past 12 months with prices reaching all time lows during the first quarter to as low as $1.6 per MMBtu, which is extremely competitive.  So on the cost side we have been making strides in terms of saving as much as possible by virtue of natural gas being as low as it is today.  So that's sort of very straight forward to understand.
On the commodities I would say ammonia is a straight forward commodity to understand, methanol maybe not as much, just because the product itself is fed into a variety of different industries that are somewhat unrelated, gasoline blending and olefin production are not necessarily very related.  Formaldehyde demand is probably very different than MTD demand and so on and so forth.  But then again I mean a general understanding of global specialty chemical markets and thinking of it differing to methanol just on the main demand drivers I think is sufficient for someone to get a pretty good grip of what's going on in the market.
WSA: Well great, and so once again joining us today is Omar Darwazah, Director of IR for OCI Partners LP.  The company trades on the New York Stock Exchange, ticker symbol is OCIP.  Currently trading at 7.56 a share, market cap is around 656 million.  And before we conclude here Omar to recap some of your key points, why do you believe investors should consider the company as a good investment opportunity today?
Omar Darwazah: I think we've seen that the worst is behind us from a commodity pricing perspective.  I believe the past 12 months have proven quite tough for our global commodity markets.  We've started to see better fundamentals and better demands on global demand in general, which is pushing some of these commodities back up.  We've seen crude oil rebound from their lows of the mid 20's back to now low forties or mid-forties.  So that's obviously a good testament to as a demand driver and for signifying the potential upside that you can generate from the equity on the story in the next couple of quarters.
There is also the fact that we're now nearing the application season for ammonia and we should expect ammonia prices to respond accordingly.  And finally in this new low natural gas environment with the amount of supply out there in the market, this is also a great indication that we will maintain low cost moving forward, given the fact that the supply is here to stay and the technologies and efficiencies that enables the natural gas to get plugged into the grid is here.  So we just went through one of the worst winters in some parts of the country and gas prices barely edged up over their historic highs. This is again a good indication that we should be in a low natural gas pricing environment for quite some time.
WSA: Well we certainly look forward to continuing to track the company's growth and report on your upcoming progress and would like to thank you for taking the time to join us today Omar, and update our investor audience on OCIP.  It's always good to have you on.
Omar Darwazah:  Thank you very much Juan and I look forward to talking to you again soon.